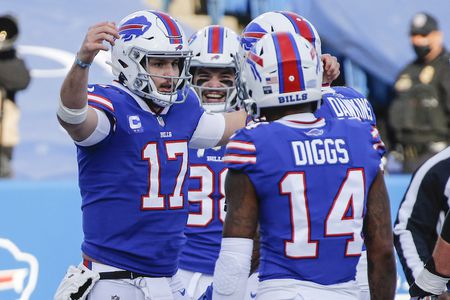 The Bills hold off the Indianapolis Colts to win their first playoff game in 25 years
A huge congratulations to the Buffalo Bills on winning their first playoff game in a quarter of a century as the Super Wild Card Round kicked off on Saturday. A very competitive game between the 13-3 Bills and 11-5 Colts, essentially came down to the wire as quarterbacks Josh Allen and Philip Rivers faced off knowing their seasons are on the line. In the end, Josh Allen and Stefon Diggs were just to good for Indy's defense to contain, as they pull off the win.
Quarter 1: The Colts come up empty handed on their opening drive and punt to the Bills. The Bills then punt right back to them. Rivers finds wide receiver T.Y. Hilton for a nice gain. Rookie kicker, Rodrigo Blankenship then kicks a 30-yard field goal to give Indy the first points of the game leading the Bills 3-0. Buffalo responds with elite wide receiver Stefon Diggs making a big grab downfield. Josh Allen then attempts to run into the endzone but has nowhere to go, so he tosses it up to the tight end Dawson Knox who makes the catch for the touchdown. Buffalo pulls ahead 7-3. Colts' return man, Isaiah Rodgers, has a nice return out passed their 40-yard line, hurdling a couple Bills along the way.
Quarter 2: On their next possession, Rivers throws to rookie wide receiver Michael Pittman Jr. who gets them into Bills territory. Indy's other rookie offensive starter, runningback Jonathan Taylor, plows his way into the endzone. Indy retakes the lead 10-7. After stuffing Buffalo on third down, Pittman makes another great play, getting down to the Bills' 30 on a screen. The Colts opt to go for it on fourth & goal instead of attempting a field goal and Pittman is unable to haul the pass in. Allen getting pressured in the endzone, appears to throw the ball away but rookie wide receiver, Gabriel Davis makes a great toe-tapping catch along the sideline. Allen then gets another first down with a similar play to Davis once again. Buffalo on fourth down gets Indy's defense to jump and move-the-chains. A designed QB run gets Allen just yards away from the endzone, so they run another QB run, and this time Allen gets in with seconds left in the half. 14-10, Bills lead at Halftime.
Quarter 3: Diggs has another nice catch, and Tyler Bass attempts and makes a 46-yard field goal to extend Buffalo's lead to 17-10. Rivers connects with all three of his tight ends, Jack Doyle, Mo Alie-Cox, and Trey Burton, on their next drive. Blankenship doinks a 33-yard kick off the upright.
Quarter 4: Josh Allen, showing off his arm and accuracy, completes a pass to Diggs in the endzone for the touchdown. Bills lead 24-10. Colts runningback Nyheim Hines slices through the Bills' defense, getting passed the 50. Taylor the follows that up by getting a big running gain of his own. Rivers throws to wide receiver Zach Pascal who runs in for the score. They go for two, but Taylor can not get in. Indy trails 16-24. Bass nails a 54 yard field goal try. Buffalo now up 27-16. Hines breaks away into Bills territory once again. Doyle wide open in the endzone scores the much needed touchdown for Indy. Doyle then again hauls in the two point conversion catch. Colts now only trail 24-27. After nice plays by Diggs, and runningback Devin Singletary, Allen tries to break free of a Colt defender, gets wrapped up by another one, and losses the football, Luckily an offensive lineman dives on it, but it has now become 3rd & 33. Indy has a chance to tie or take the lead, but Pascal making another effort losses the football which is recovered by Buffalo. The play is reviewed and the refs claim he was down by contact. Rivers with a Hail Mary attempt, gets batted down by Buffalo's secondary, sealing the Bills' first playoff win in 25 years.
Finally after years of the New England Patriots dominating the AFC East, it is now Bills Mafia's time to shine. Josh Allen and Stefon Diggs look like the most dangerous QB-WR duo in the entire league, not to mention Cole Beasley's underrated year he's been having as Buffalo's second receiver. Allen finished the game with a 74% completion percentage, 324 passing yards, and three total touchdowns. He also led in rushing yards with 54. Stefon Diggs had a great game as usual with 128 receiving yards. Rookie Gabriel Davis had a nice game as well with 85. For the Indianapolis Colts, they made the game very competitive, but overall could not match Josh Allen's top tier play. Rivers finished with a 58% completion percentage, 309 passing yards, and two passing TDs. Taylor led the team in rushing yards with 78, and Pittman led with 90 yards in receiving. The seventh seed Colts will return home, as the two seed Bills will take on the fifth seed Baltimore Ravens in the divisional round on their journey to win their first Super Bowl in franchise history.