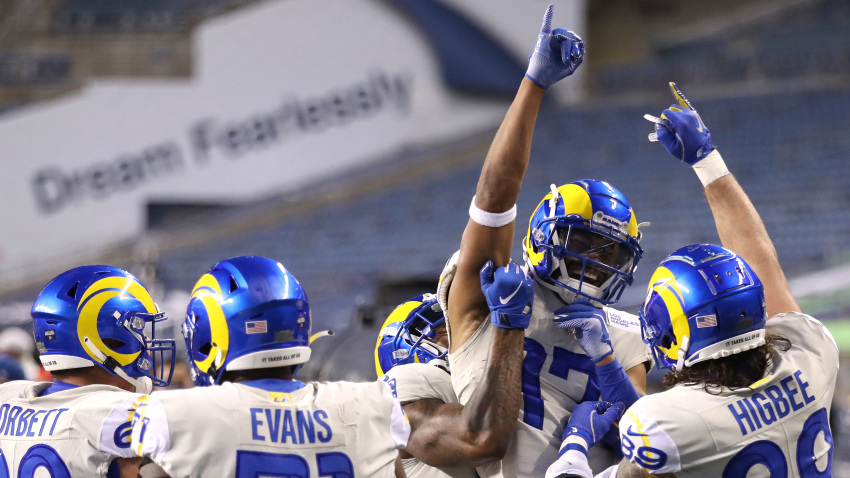 Rams defense holds Russell Wilson in check and come out victorious in Wild Card game
Despite having quarterback issues going into the game, with Jared Goff having a broken thumb on his throwing hand recently getting surgery, and eventually deciding to start rookie QB John Wolford, the Los Angeles Rams pull off the upset against Russell Wilson's Seattle Seahawks. The Seahawks offense has not looked the same since the first half of the season, and that plus going up an Aaron Donald and Jalen Ramsey led Rams' defense was a recipe for disaster.
Quarter 1: Both offenses have slow starts to kickoff off the game. Rams begin to drive but as Wolford takes off to run, he takes a big hit as safety Jamal Adams' shoulder plows directly into Wolford's head. He is later taken to a nearby hospital for further examination. it is later announced that he appears to be ok. Jared Goff, entered the game to replace Wolford despite his recent surgery to repair his broken thumb. Goff gets sacked and kicker Matt Gay makes a 40-yard field goal. Rams lead 3-0. Russell Wilson gets sacked continuously, and they get nowhere once again. With the ball back, Wilson drops a dime to wide receiver Tyler Lockett along the sideline. The defensive back in good coverage as well.
Quarter 2: Coming up short yet again, Seattle at least can try for a 50-yard field goal which kicker Jason Myers has been perfect all year on. Tie game 3-3. Goff responds by airing it out in the direction of wide receiver Cooper Kupp, who despite having two defenders on him, makes an outstanding catch. Settling for another field goal, which Gay makes from 39 yards out. Rams retake the lead 6-3. A designed screen play is disrupted as Rams cornerback, Darious Williams, reads the play perfectly, slips between two receivers, intercepts the pass, and takes it back for a Rams' pick-6. Los Angeles extends their lead to 13-3. Wilson runs left out of the pocket, turns and finds Dk Metcalf deep, as they connect for a Seahawks' score. Seattle trails 10-13. Rams rookie runningback Cam Akers slips past Seahawk defenders for a nice catch and run into Seattle territory. Akers has another nice run down to the 10. And once again Akers gets the ball and this time runs right into the endzone for the touchdown. The Rams extend to a ten point lead, 20-10 before the half.
Quarter 3: On the kickoff, kick returner for Seattle, D.J. Reed takes the ball all the way down to the Rams' 41. Seattle fails to capitalize on it and settle for a 52-yard kick by Myers. Seattle trails 13-20. After absolutely nothing but punts for most of the quarter, Goff, in the redzone, throws to the middle and connects with wide receiver Robert Woods out to the 50-yard line.
Quarter 4: Matt Gay scores the first points of the final quarter kicking a 36-yard field goal. Rams go up by ten. Reed back to return a Rams' punt, fumbles the ball and LA hops on it. Capitalizing on the turnover, Goff finds Woods wide open for the TD. LA leads 30-13. Wilson runs and moves-the-chains on fourth down. Wilson then fires down the middle, and it is caught for the TD by Metcalf. Seattle trails 20-30. Rams get one final first down to ice the game and end Seattle's ten game undefeated playoff streak at home.
The Los Angeles Rams will move on in the playoffs, as their defense really showed that it is championship level. Their offense was not bad either especially considering Goff played with a broken thumb that he just had surgery on twelve days before. Goff attempted just 19 passes, completing nine of them for 155 yards, and a TD. Cam Akers had a great day on the ground rushing for 131 yards, and Kupp finished with 78 receiving yards. The Seahawks, on the other hand, have died off since a spectacular first half of the season by Wilson, and went one and done in the playoffs. Russell completed just eleven of his twenty-seven pass attempts for 174, two TDs and one INT. Chris Carson rushed for 77 yards, and Metcalf had 96 receiving yards plus two TDs. Los Angeles got the better of their divisional rival this time, and will continue their playoff run as they head to Lambeau Field to face Aaron Rodgers and the Green Bay Packers.