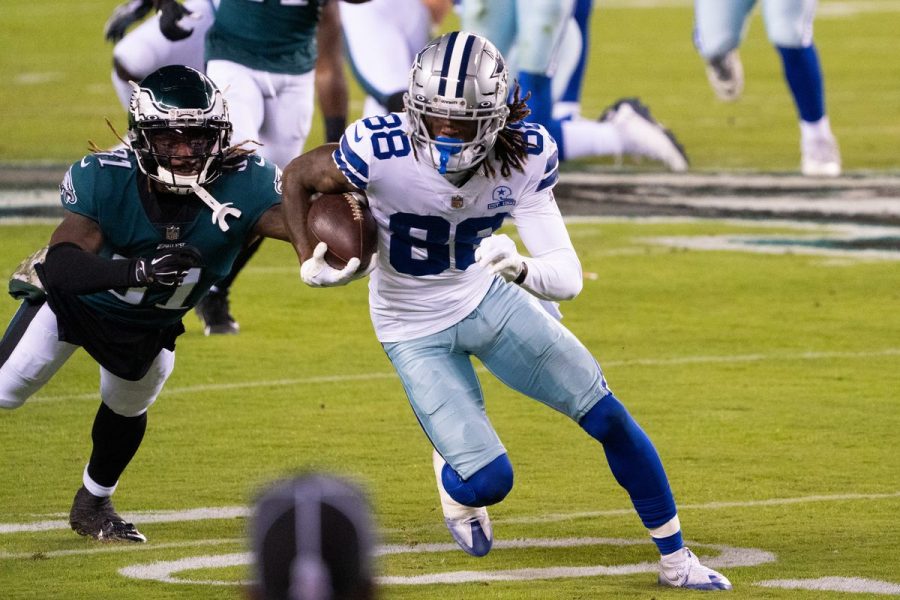 Game Recap: Eagles fall to the rival Cowboys and are officially eliminated from playoff contention
Just when Eagles fans who still wanted to make the playoffs got their hopes up, it all came crashing down with a devastating loss to the rival Dallas Cowboys this past Sunday. Jalen Hurts once again got the start at QB for Philadelphia as they went up against Dallas' backup QB in Andy Dalton. The Cowboys had been playing pretty well the last couple weeks as they attempt to make a push for the division. The Eagles had also been looking better with Hurts behind center. Whoever lost this game, would be the first team eliminated from the NFC East. However, both teams would be eliminated if Washington beats Carolina, and they would clinch the division with a Giants' loss to Baltimore.
Quarter 1: On Philly's first possession of the game, Hurts and Sanders run it right down the Cowboys' throats, and Sanders takes it in for the score. Eagles take the early lead 7-0. Dallas then immediately responds with Dalton airing one deep to wide receiver Amari Cooper getting into Eagles' territory. Dalton takes a sack, and they settle for a 35-yard field goal kicked by Greg Zuerlein. The score now 7-3 Eagles. Philly retaliates with a deep pass from their own ten yard line right to DeSean Jackson, who had just returned from injury, and takes it in for an 81 yard Eagles touchdown, and they now lead 14-3.
Quarter 2: Going into the second quarter mid-Dallas drive, Dalton connects with wide receiver Michael Gallup for the touchdown. Dallas trails 10-14. Hurts puts together a nice run, and good pass to Travis Fulgham, but they are then forced to punt. On a screen play to Gallup, it works to perfection as he takes it inside the Eagles' 15. Dallas then settles for a 20 yard field goal attempt, now only down a single point. The Eagles put together a nice drive, and end up kicking a 38-yard field goal. 17-13 Philly. Dalton and the Dallas offense drive down the field with little time left in the half, and Gallup makes a great toe tapping catch in the endzone. Dallas leads 20-17 entering halftime.
Quarter 3: Coming out of the half, Dalton hits rookie wide receiver CeeDee Lamb in stride, and he runs in for the touchdown. Dallas extends their lead to ten. Soon after they get the ball back and Andy once again kick starts another big play, this time throwing to Cooper, who gets into the redzone. Zuerlein kicks a 21-yard field goal putting his team up 30-17. Hurts weaves around the pocket and hits wide receiver Quez Watkins for a big gain into Cowboy territory. Right after, Hurts is hit from behind and fumbles the football. They luckily recover it. Dallas gets the ball back, and Dalton looking for Lamb, throws into double coverage, and is picked off by cornerback Darius Slay Jr.
Quarter 4: After it looked like Philly would come away with some amount of points from the takeaway, back-to-back-to-back penalties force them to punt. Hurts and the offense soon get the ball back to try to keep their chances alive when Hurts throws it right to a Dallas defender, and gets intercepted. Philly's defense stops Dallas, and gets back into their territory when Hurts attempts to run ad losses the ball. It is ruled a fumble, and a recovery by Dallas. Runningback Ezekiel Elliott breaks loss, and shakes off a defender for a big gain. And just to put the nail in the coffin, Dalton hands off to CeeDee who runs in for the TD. And just to make sure the Eagles don't score any more points, rookie cornerback Trevon Diggs intercepts Hurts' pass. The Dallas Cowboys win 37-17.
The Eagles remain last in the NFC East, now falling to double digit losses with a record of 4-10-1 as they are now uncapable of winning the division. Dallas, on the other hand, improves to 6-9, tied with Washington as they fell to the Panthers, and released QB Dwayne Haskins, though still remain atop the division as they swept the Cowboys this year. The Giants fell convincingly to the Ravens, but still remain in contention for the division. Jalen Hurts passed for 342 yards, one TD and two INTs. He also led the team in rushing with 69 yards. DeSean Jackson led in receiving yards with 81 from the single play he had. Andy Dalton racked up 377 passing yards and a TD to INT ratio of 3-1. Zeke rushed for a nice 105 yards, and both Cooper and Gallup recorded 121 receiving yards on the day. In the final week of the NFL regular season, Dallas will play the Giants, and whoever wins that game will be routing for the Eagles to defeat Washington on Sunday Night Football. If the Eagles end up successful in doing so, then the winner of the Dallas Giants game, or obviously Washington if they win, will represent the NFC East in the playoffs and most likely get owned by the Tampa Bay Buccaneers in the Wild Card Round. The Eagles should just look to play spoiler in their game, but their real sights are the offseason to figure out their QB situation, and look to possibly target a top wide receiver in the draft.