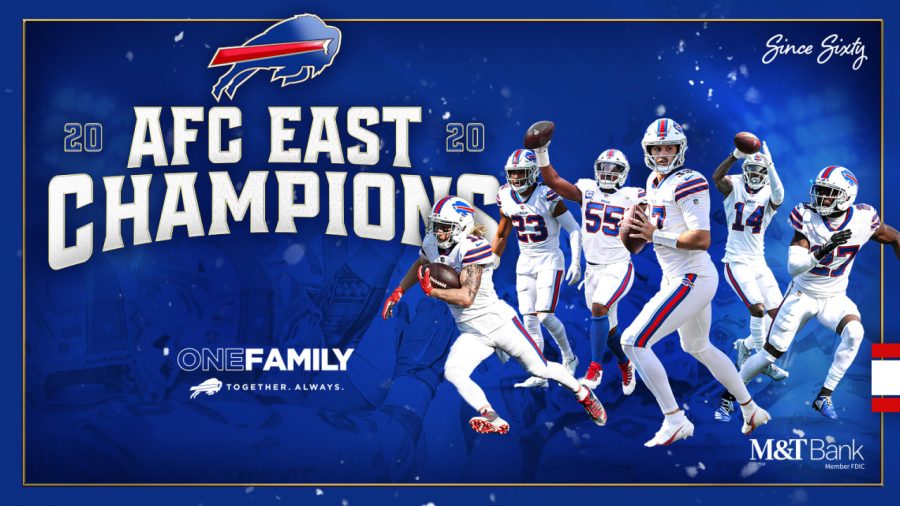 Buffalo Bills take care of the Denver Broncos, and clinch AFC East division title for the first time since 1995
Congrats Bills Mafia! Finally, after 25 years, you are the kings of the AFC East. Go break some tables! The Bills flew to Mile High Stadium and handed the Broncos a crushing loss. Quarterback Josh Allen has shown elite QB play throughout the season, and is top three in MVP talks. Wide receivers Stefon Diggs and Cole Beasley have been great for Allen as well. It got even better after their win on Saturday too. On Sunday football, The Miami Dolphins defeated the New England Patriots, officially eliminating them from playoff contention for the first time since 2008. They had won the division title 17 times since 2001. The Bills, under head coach Sean McDermott, and lead by Josh Allen, have gotten better each year since since drafting him in 2018.
Quarter 1: Broncos got the ball first to start the game. Their first scoring attempt is a 51 yard field goal try, but kicker Taylor Russolino, making his NFL debut in place of Brandon McManus, kicks it wide right. The Bills take advantage of this and Allen leads them downfield, and slings it to tight end Dawson Knox for the touchdown. Bills up 7-0.
Quarter 2: With the ball back, on third down, Allen steps up, takes off running, and gets in the endzone for a rushing touchdown. Buffalo leads 14-0. Denver soon punts back to Buffalo, but punt returner Andre Roberts muffs the punt. The Broncos pounce on it, and recover at the Bills 35-yard line. On third down and eight, runningback Melvin Gordon has a strong run, and gets into the endzone. Denver trails 7-14. After a smooth behind the back handoff to runningback Devin Singletary for a walk in touchdown, multiple penalties take it away, and push the Bills back, but Allen finds Jake Kumerow, a wide receiver, for the score. Bills go up 21-7. Broncos with a last attempt to score before the half do as quarterback Drew Lock throws to tight Noah Fant. The extra point is missed. Denver trails 13-21 at the half.
Quarter 3: Andre Roberts makes up for his muffed punt, and returns this kickoff into Broncos' territory to start the second half. Josh fakes to rookie runningback Zack Moss on first & goal, and then runs in himself for his fourth total touchdown of the day. Bills lead 28-13. Lock then fumbles the football. Defensive end Jerry Hughes picks it up, and pulls off an insane run, and scores, extending Buffalo's lead to 35-13. Bills force a three and out. Stefon Diggs makes a nice catch for Buffalo, and after a couple penalties, taking away a couple Bills' touchdowns, they settle for a 27 yard field goal, which kicker Tyler Bass makes to extend their lead to 25 points.
Quarter 4: Broncos fail to get anything going, and the Bills get the ball back, and kick another 27 yard field goal, now up 41-13. Denver finally puts together a drive for some garbage time points as Gordon extends the ball into the endzone. Russolino misses the extra point. Denver now with 19 points. The game might as well be over, but just for good measure, Singletary breaks free for a big touchdown run. The Bills come out victorious in dominating fashion, beating the Broncos 48-19, and clinching their division title.
The Buffalo Bills are your 2020 AFC East Champions for the first time since 1995 after years of struggle and Patriots' reign. They improve to 11-3. Josh Allen put on a dominating MVP like performance, throwing for 359 yards, passing for two touchdowns, and rushing for two TDs as well. Rookie Zack Moss lead the team in rushing yards with 81, and Stefon Diggs delivered another dominating performance at receiver with 147 yards, and is third in receiving yards with 1,314. Cole Beasley has also been very good. He had 112 yards this game, and has been one of the best slot receivers this year. The Bills defense also played well, holding Denver to under 20 points. As for the Broncos, they fall to 5-9, tied for last place in the AFC West. Lock threw for just 132 yards and a single touchdown. Gordon led with 61 rush yards and Noah Fant led with 68 receiving yards. Next week, Denver faces the division rival Los Angeles Chargers in a meaningless game, and the Bills take on the division rival Patriots on Monday Night Football. Overall, the Bills have played great football this year, Josh Allen has been a top QB all year, and Stefon Diggs was a great trade acquisition as he has been a top ten receiver. After falling short of a playoff win last year, will the Bills be able to make it to the big game, and claim the franchises' first ever Lombardi trophy?