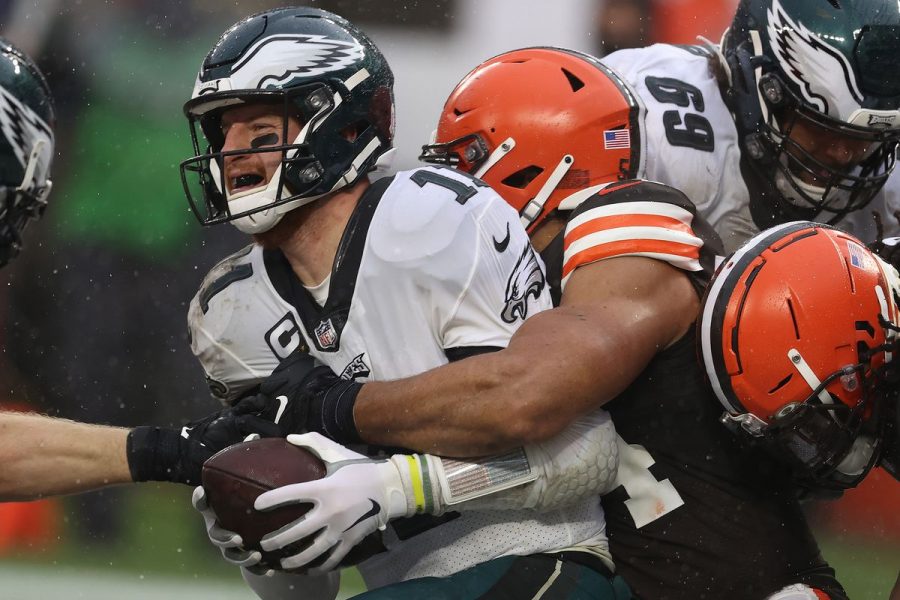 Cleveland Browns defeat the Eagles who's division lead continues to decrease
And just like that, the Eagles now only have a half game lead over the rest of the NFC East. In yet another rainy game for the Browns, they established a run game and got after Carson Wentz all game long. The Eagles were once again a mess, especially on offense, and once Nick Chubb and Kareem Hunt got going for the Browns, Philly stood no chance. Even with Browns defensive end, Myles Garrett out, Cleveland still was able to sack, hit, and put pressure on Wentz all game long, causing another poor outing by Philly.
Quarter 1: As the rain begins to come down, Philly has a nice drive going down the field when runningback Miles Sanders, fumbles the football in Browns territory, and Cleveland recovers it, causing the Eagles to come away from that drive empty handed. Baker Mayfield rolls out of the pocket and airs it out deep to wide receiver Rashard Higgins for a massive gain. After Mayfield overthrows a wide open Austin Hooper in the endzone, Philly's d-line holds steady and stops Kareem Hunt short of the endzone on fourth & goal. The first quarter ends scoreless.
Quarter 2: After a nice pickup of yards by tight end Dallas Goedert, Carson Wentz is hit by cornerback Denzel Ward as he throws, misses Sanders, and it is intercepted by linebacker Sione Takitaki, and he takes it all the way back for a pick-six. Browns lead 7-0. Wentz gets sacked a couple more times before the half expires. No offensive points scored in the first half.
Quarter 3: Nice start for the Eagles as Mayfield losses the football and Alex Singleton, an Eagles linebacker, recovers it. Wentz has time in the pocket, he looks and throws a touchdown to tight end Richard Rodgers. Tie game 7-7. Mayfield has a nice pass down the sideline to wide receiver KhaDarel Hodge. Kicker Cody Parkey hits a 46-yard field goal, and Cleveland takes back the lead 10-7. With the ball again, Hunt is taken down for a big loss, forces them to punt. After a great punt by the Browns, Wentz, in his own endzone, cannot get the ball out in time, and is taken down for a safety, with Olivier Vernon getting his third sack of the day. 12-7 Browns lead.
Quarter 4: The Browns attempt a 47-yard kick that gets blocked by the Eagles special teams. Wentz almost throws an interception in the endzone, and Philly settles for a 43-yard kick, which kicker Jake Elliott makes. Now a two point game, Eagles trail 10-12. Nick Chubb stiff arms a defender and picks up a nice gain all the way inside the 10-yard line. Hunt then runs out right, hurdles a defender, and gets into the endzone for a Browns touchdown putting them up 19-10. Baker leads the offense downfield, and Parkey kicks a 28-yard field goal. Browns up 22-10. Wentz tosses the ball up, but overthrows wide receiver Alshon Jeffery, and Denzel Ward intercepts it. Later on, Adrian Clayborn causes Wentz to fumble, but luckily the Eagles recover it and Wentz completes a fourth down pass to rookie wide receiver Jalen Reagor. He then connects with Goedert for the score. 22-17, Browns still lead, and after a failed onside kick by Philadelphia, the Browns secure the victory.
Somehow, after falling to 3-6-1, the Eagles are still in first place in the NFC East, but now only hold the lead by half a game, with the Giants, Washington, and Cowboys all at 3-7. With this win, the Browns are now in second place in the AFC North, behind the undefeated Steelers, and in front of the Ravens after they lost to the Titans in overtime. Carson Wentz threw for 235 yards, two touchdowns, and two picks. He leads the league in most interceptions and fumbles. Sanders rushed for 66 yards, and Goedert lead the team in receiving yards with 77. Baker Mayfield had 204 passing yards, and had no touchdowns or picks. Chubb racked up 114 rushing yards, and Hodge led the team with 73 receiving yards. Next week, The Browns travel to Jacksonville, to take on the one win Jaguars, as they look to mist likely get into the playoffs through a Wild Card spot. For Philly, they face off against the Seattle Seahawks on Monday Night Football next week. If they lose that game, they will lose their division lead as Washington and Dallas play on Thanksgiving. The Eagles will continue to have tough opponents in the next few weeks, and if they don't step it up, they are in danger possibly even coming in last in the woeful NFC East.