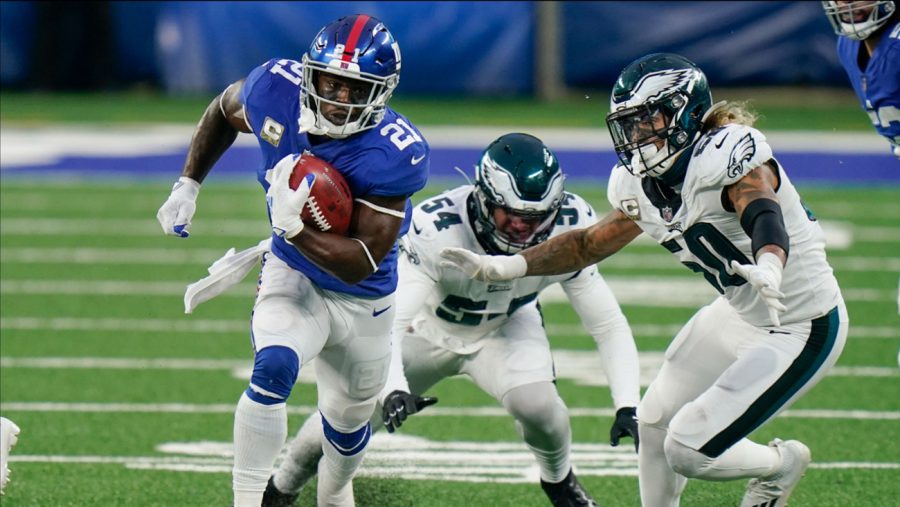 Game Recap: Eagles lose crucial divisional game to the New York Giants
And the NFC East just keeps looking worse and worse as the season goes on. The Giants and Eagles faced off in yet another crucial divisional game on Sunday. The Giants were only a game and a half behind the Eagles who led the division with a 3-4-1 record. Both quarterbacks, Carson Wentz and Daniel Jones, have struggled this season. This could have major implications on who takes the division crown as both teams have pretty tough schedules coming up. After a strong start by the Giants, the Eagles were unable to catch them, as the Giants kept Philly at bay and won their second game in a row.
Quarter 1: From deep in their own territory, the Giants drive all the way down the field, and Daniel Jones runs about 35-yards into the endzone, without tripping and falling this time, for a touchdown. 7-0, Giants lead first. The Eagles respond by driving into Giants territory, but cornerback, James Bradberry bats down a third down pass. Jake Elliott kicks a 40-yard field goal, and the Eagles trail now 3-7. Going for it on fourth and one at the 2-yard line, runningback, Wayne Gallman dives over the pile of players, and gets in for a touchdown. New York goes up 14-3.
Quarter 2: Eagles with the ball, Wentz stumbles after he hikes the ball and goes down on third down. They punt back to the Giants. After a few punts, Wentz fumbles the snap and goes down. The half ends with the Giants leading 14-3.
Quarter 3: Runningback Boston Scott breaks through the defense and runs 56 yards down the sideline into the endzone for an Eagles' touchdown. Then runningback Miles Sanders punches through for the 2-point conversion. Eagles now only trail 11-14. Wider receiver Sterling Shepard makes a great catch taking the G-Men into Eagles territory. Soon after, wide receiver, Golden Tate, makes a great catch for them. Gallman then barrels into the endzone. New York now leads 21-11. Wentz pulls off a nice sidearm pass to wide receiver Greg Ward. Corey Clement, runningback for Philly, then runs in for a touchdown. They once again try to go for two points and Wentz gets sacked. Giants still lead now 21-17.
Quarter 4: Giants safety, Jabrill Peppers, had a nice punt return into Eagles territory. Graham Gano kicks a 35-yard field goal, putting the Giants up 24-17. Bradberry makes a nice stop, by batting away a pass by Wentz on fourth down. Jones goes deep, and wide receiver Darius Slayton slays cornerback, Darius Slay, as he makes the catch. Gano makes a 44 yard kick, and New York now leads by ten. Giants defense makes a stop, the offense gets a first down to ice the game for a Giants' victory over Philadelphia, 27-17.
After this crushing loss for Philly, they still remain atop the NFC East with a woeful 3-5-1 record. The Giants on the other hand, improve to 3-7, and are now second in the division after Washington lost a close one to the Detroit Lions. Especially after that Eagles' loss, the division is still wide open as no team has more than three wins in the division. Wentz threw for 208 yards and had no touchdowns or interceptions. Sanders rushed for 85 yards and tight end Richard Rodgers, led the team in receiving yards with 60. For New York, Jones had 244 passing yards, as well as zero touchdown passes or interceptions. Jones also led the team in rushing yards with 64. Slayton had a nice day with 93 receiving yards. Ironically, two of the most turnover prone quarterbacks had no turnovers against each other. Both teams have an overall tough schedule the rest of the season as the Eagles have five straight games against teams with winning records, starting with the Cleveland Browns next week, while the Giants head into their bye week, to prepare for some harder games down the stretch. Washington and Dallas have relatively easier schedules, and are still very capable of taking the division crown as it remains a four way battle.