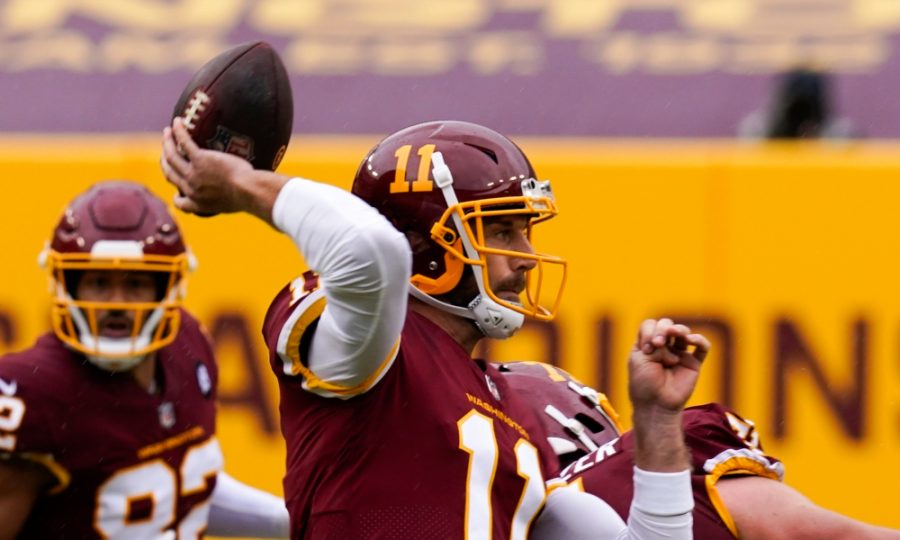 The spectacular return of Alex Smith
November 18, 2018, week 11, verse the Houston Texans, Washington Redskins quarterback, Alex Smith, was sacked by defensive end J.J. Watt and cornerback Kareem Jackson, accidentally causing Smith to break his leg in two places; his tibia and fibula. Everyone thought his football career was over. Two years later. October 11th, 2020, Los Angeles Rams cornerback, Jalen Ramsey, knocks Washington quarterback, Kyle Allen, out of the game, and with Dwayne Haskins being demoted to 3rd string quarterback, and being sent home sick, in his first game being on the active roster, Alex Smith returns to the field almost two years since his gruesome leg injury. The disturbing ironic thing is that exactly 33 years ago, to the day, the current Redskins quarterback at the time, Joe Theismann, broke his leg being sacked by two players on the same yard line, breaking his leg in the same spots as Alex Smith. Theismann retired after his gruesome injury, and has given Smith support and high praise throughout his recovery process and his amazing comeback.
Alex Smith had been traded to the Washington Redskins before the 2018 NFL season, as the Kansas City Chiefs looked to start Patrick Mahomes at quarterback. The Redskins decided to trade for Smith after they let Kirk Cousins walk and sign with the Minnesota Vikings. Smith led the team to a 6-3 record, leading the NFC East division. After Smith went down, the Redskins started three different quarterbacks throughout the remainder of the season, including Colt McCoy, Mark Sanchez, and Josh Johnson, only mustering a single win. They finished the season with a 7-9 record.
The whole league and fans alike were praying and rooting for Smith to recover. The seriousness of his injury got to the point where people feared his leg might have to be amputated. Along with an infection suddenly appearing in his leg, it further increased to where this injury was life-threatening. But thankfully after 17 surgeries, Alex continued to make a steady recover. Washington kept him on their roster, and during the 2020 off-season, Smith began throwing a football, and practicing again. Just the fact that he was even able to do that is nothing short of remarkable. Throughout his recovery, Smith kept talking about playing football again. Mostly everyone thought that was next to impossible. Smith stayed on Washington and was taken off of IR before the season started, and was placed on the inactive list for the first four weeks of the season.
Before Smith had returned, Washington drafted quarterback, Dwayne Haskins in the first round of the 2019 draft, and signed quarterback Case Keenum. 2019 was a rebuilding year as they went 3-13. They then traded for quarterback Kyle Allen during the 2020 offseason. After only winning one of four games to start the season, head coach, Ron Rivera decided to bench Haskins in favor of Allen, and Smith was activated and became the second string behind Allen.
When Alex Smith stepped out onto the field, everyone's hearts across the football world stopped, and everyone was filled with emotions of excitement and fear. Smith snapped the ball and completed his first pass, in two years, to runningback J.D. McKissic. It would have been great to have a standing ovation from a full stadium of fans, but Alex's wife and three kids were there to give him one. His stats weren't anything special, but that's understandable due to him not playing in almost two years. He went 9/17, and passed for 37 yards, though he was sacked six times, with Aaron Donald even jumping on his back one time. Donald later on the sidelines confirmed that Smith's leg, in fact, is strong. Washington's line could not protect him, but in a sense, taking those hits was a good test if Smith could still sustain football hits, and from what we saw, he absolutely still can.
So what's next for Alex Smith and the Washington Football team? There are talks of the team potentially attempting to trade Haskins before the trade deadline, which would possibly signal that they would like to sometime soon make Alex Smith the starting quarterback once again. Other possibilities are that they'll keep Haskins, develop him more, and put him back in later on, which would also depend on how the other quarterbacks are performing. There are also rumors of Washington scouting quarterbacks available in the 2021 draft. Rivera has currently named Kyle Allen the starter for next week's game against the New York Giants. Also like mentioned before, it has been said the team would like to have Smith starting at some point. Well starting quarterback, or not, Alex Smith has made the most incredible and inspiring comeback in NFL history. He 100% deserves comeback player of the year award. How could you not root for this guy? Truly an amazing miracle.