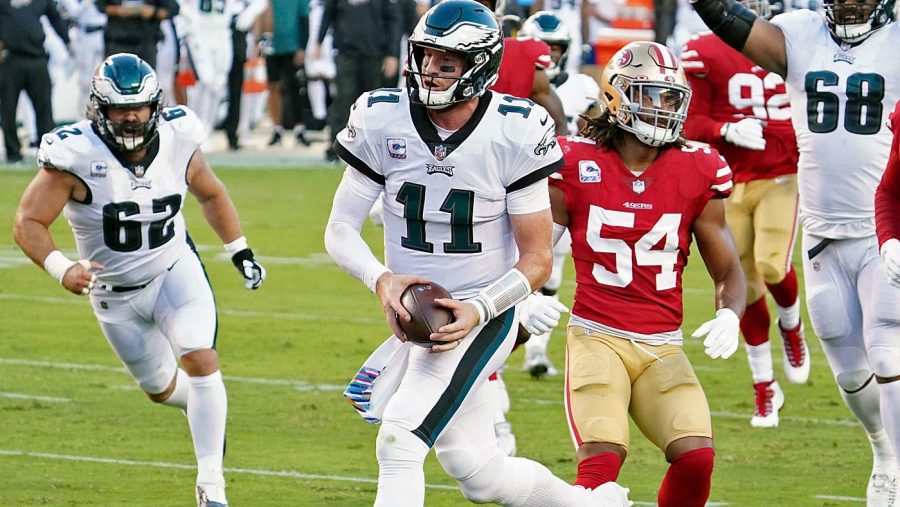 Eagles get Their First Win of the Season Over the 49ers
It finally happened! The Philadelphia Eagles have won their first game of the season taking down the San Francisco 49ers on Sunday Night Football. Both teams have been plagued with injuries this season with San Fran even losing their starting quarterback, Jimmy Garoppolo, for a few weeks, and having to play their 2nd and 3rd string quarterbacks which the Eagles took advantage of that night.
Quarter 1: With possession of the ball, the Eagles try to attempt a play action pass but Carson Wentz gets pressured and tries to toss it to Miles Sanders, but the ball gets batted and #51 of the Niners, Azeez Al-Shaair, catches it. 49ers get the ball back but come up scoreless. Wentz leads Philly to the redzone, fakes a hand-off to Boston Scott, and runs in for an Eagles touchdown. They oddly decide to attempt a two point conversion and Wentz connects with Zach Ertz for the score. Eagles lead 8-0. Niners on 3rd down & 7, Mullens flips the football to rookie receiver, Brandon Aiyuk, who runs for the first down, and hurtles an Eagle defender, and scores a touchdown. What an impressive play by the first round rookie out of Arizona State! Eagles now only lead by one.
Quarter 2: A very uneventful first eleven minutes or so of quarter number two as neither offense is able to put up points. Finally, Mullens airs it out to star tight end, George Kittle, who catches it at around the Eagles fifteen yard line. Right after that great play, Mullens overthrows his receiver and is picked off by Rodney McLeod. Philly begins to have a good drive after the interception, but center, Jason Kelce snaps the ball too high and Wentz has to chase after it and jump on it at about their 40 yard line. On 2nd and 27, B.J. Jones sacks Wentz, making it 3rd and 34. Jalen Hurts comes in the game at quarterback, runs, but fails to get the first down. Entering half time, the score still 8-7 Eagles.
Quarter 3: A nice drive by the Niners gets them to a third and goal situation where Mullens throws it to Kittle for San Fran's second touchdown of the night, and take the lead, 14-8. Wentz, on 3rd and long, takes off and comes up a yard short of the first down. Luckily, they move the chains on fourth down. After that they fail to get into the endzone and Jake Elliott completes a 35-yard filed goal. 14-11 Niners lead.
Quarter 4: Nick Mullens doesn't see Dexter McDougle as he forces Mullens to fumble and Malik Jackson recovers it for Philly. On second and long, Carson drops a dime to Travis Fulgham, who was recently elevated from the practice squad, and he catches it and somehow stays in bounds and gets into the endzone for the touchdown! Eagles take back the lead 18-14. The 49ers now with the ball, get a chance to take their lead back, but Mullens throws an awful pass to a wide open defender, Alex Singleton. He takes it back for a pick-six. Possibly the easiest interception of his life. After that horrid throw by Mullens, C.J. Beathard is put in at quarterback. His first drive of the season goes right down the field and a hand-off to Jerick McKinnon gets them to 20 points. They go for two, but Kittle drops the pass. The Niners attempt an onside kick but like most do, fail, and the Eagles recover it. Beathard and the offense get the ball back with a little over a minute left in the game. With seven seconds left in the game, Beathard, from the Eagles 45-yard line, throws a Hail Mary into the endzone. Deebo Samuel had it in the air, but too many Eagles were around him, and it was knocked from his hands, hit off of Darius Slay's hand and fell to the ground as the other 49er's receivers down there in the pile could not get to it in time. Eagles win 25-20.
With this win, the Eagles move into first place in the garbage fire of a division known as the NFC East with a 1-2-1 record. The 49ers, meanwhile, drop to 2-2, and remain last in the powerhouse NFC West division. Wentz threw for 193 yards, one touchdown, and one interception. Sanders rushed for a measly 46 yards, and Fulgham led in receiving yards with 57. Mullens had 200 passing yards, one touchdown, and two interceptions, and Beathard passed for 138 yards. McKinnon got 54 yards on the ground, and Kittle caught all 15 of his passes for 183 yards. San Fran faces Miami this week, hopefully getting back some players and rebounding off this loss, and Philly goes on to face the Steelers next week, which will prove to be a tough matchup for them.