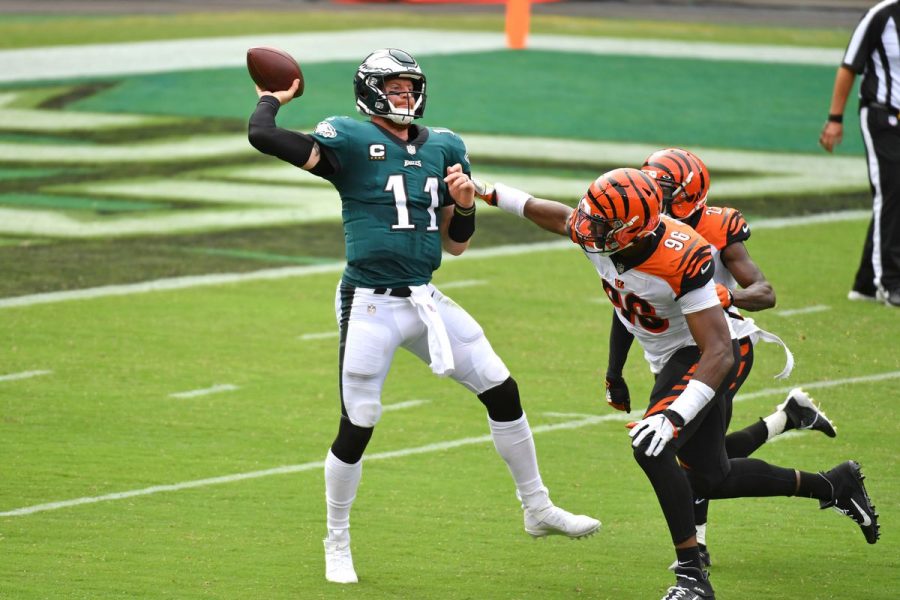 Game Recap: Eagles and Bengals tie in nail biter overtime game
Entering Week 3, the Philadelphia Eagles look to capture their first win of the season. Well, they were unsuccessful in doing that. But, they did not lose either. In an overall lower scoring game, that went into overtime, rookie quarterback, Joe Burrow, and veteran quarterback Carson Wentz, battled it out right up to the end, in what turned into a crazy game as it entered overtime and it turned into the first tie game this season.
Quarter 1: The game kicks off with Cincinnati being forced to punt as Josh Sweat sacks Joe Burrow on 3rd down. On the Eagles first drive, Wentz gets intercepted by the Bengals. Philly's next drive reaches the redzone, and Sam Hubbard sacks Wentz on 3rd & goal.
Quarter 2: Eagles are forced to kick a 27-yard field goal after the sack, and make it. Eagles lead 3-0. After a while of both teams punting back and forth, the Bengals get into field goal range, and kicker Randy Bullock makes a 48- yard kick. Tie game 3-3. Philly gets into Bengals territory and kicks a 42- yard field goal, taking the lead back 6-3. A pass interference call on the Eagles gives Cincinnati the opportunity to score a touchdown as rookie Burrow throws to rookie wide receiver, Tee Higgins. Bengals up 10-6. With a chance to score some points before half time, the Eagles drive down the field and Wentz fumbles the football, but they recover it. Now getting another shot, Wentz spots wide receiver, Greg Ward Jr, and Ward runs down the sideline and into the endzone for a touchdown. Eagles take the lead before the half, 13-10.
Quarter 3: The Eagles start off with the ball, and the Bengals defense comes up with some big stops, holding Philly to just three points, now up 16-10. Bengals wide receiver, Tyler Boyd, gets a big gain, and Burrow finds Higgins in the endzone once again, and Cincinnati goes up 17-16. Targeting Zach Ertz on 3rd down, Wentz's throw gets intercepted for the second time by Cincinnati's defense.
Quarter 4: Philly's defense holds the Bengals offense to a field goal, as the Bengals extend their lead to 20-16. Runningback Giovani Bernard, breaks through the Eagles d-line and gets a 41- yard gain. Unable to get into the endzone again, Bullock kicks a 25-yard field goal. Bengals lead 23-16. Wentz leads the offense back into scoring territory, and on 2nd & goal, evades a couple sacks, runs, and dives for a touchdown with about 20 seconds left in regulation. The score now all tied up at 23-23.
Overtime: Both teams struggle to put the game away for several minutes, when Wentz drops a dime to Ertz but a penalty brought them back. After some more punts, the Eagles finally get a chance to kick the game winning 59-yard field goal with Jake Elliott, who has been very clutch for them, but once again a penalty on the Eagles pushes them back and they decide to punt it with 19 seconds left. The ball game ends in a 23-23 tie.
There you have it. The first tie game this season. Over the last three seasons, 2018, 2019, and 2020, there have been now a total of four tie games. Eagles and Bengals both go to 0-2-1 on the season, placing the Bengals last in the AFC North, and the Eagles 3rd in the NFC East. Wentz finished with 225 passing yard, one touchdown, and two interceptions. Miles Sanders had a nice game rushing for 95 yards. Ward led the team with 72 receiving yards. Burrow threw for 312 yards and two touchdowns. Joe Mixon rushed for just 49 yards, and Boyd had a great game, catching 10 passes for 125 yards. The Bengals seem to be improving each week spent with Burrow as their quarterback, while the Eagles keep worrying if Wentz's poor play will continue, or if he will finally step it up.