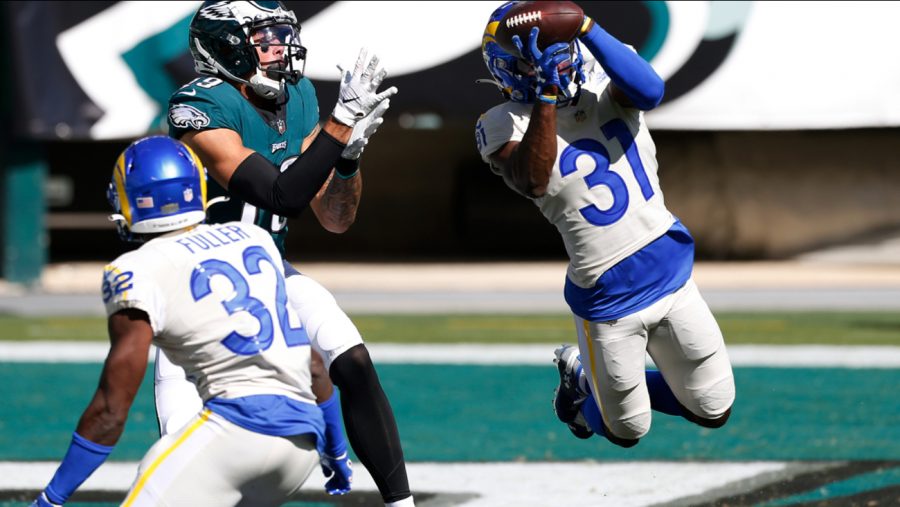 Game Recap: Eagles Fall to the Los Angeles Rams as They Drop to 0-2
Week 2 is in the books, and about half of the league's players are injured. But that is not what will be covered in this article. The Los Angeles Rams traveled to Philadelphia this past week to face off against the Eagles who are coming off a shocking loss to the Washington Football Team, while the Rams performed well and beat the Dallas Cowboys. The Rams came into the Eagles' home, and destroyed them. Philly came out of this week with an 0-2 record, and they do not look good at all.
Quarter 1: Rams force a fumble almost immediately as running back Miles Sanders coughs up the football, and the Rams recover it. LA uses this opportunity and Jared Goff connects with tight end Tyler Higbee for the touchdown. Rams up 7-0. Eagles get the ball back and are held to a 38-yard field goal, which kicker Jake Elliott makes. The score now 7-3 Rams. Goff leads the Rams down the field, and rookie wide receiver Van Jefferson, makes a great sliding catch setting up 1st & goal. With a fake handoff to runningback Malcolm Brown, Goff slips it to wide receiver Robert Woods who runs in for a touchdowns. LA leads 14-3.
Quarter 2: The Rams  keep up the good play as Higbee scores his second touchdown of the day, putting the Rams up 21-3. The Eagles finally respond, and go right down the field and Carson Wentz quarterback sneaks into the endzone for a touchdown. Philly tries to attempt a 2-point conversion but fail as Miles Sanders gets stopped. The score now 21-9 Rams. On 3rd down, Brandon Graham sacks Goff. Eagles punt back to the Rams with Cooper Kupp back to receive it. He fields it at about the 4-yard line and attempts to run but fumbles the football and the Eagles recover it with great field position. Philly's offensive line opens up a hole, and Sanders runs through it for a touchdown. The Eagles are now only down 16-21.
Quarter 3: Wentz, now in Rams territory, throws into double coverage in the endzone, targeting J.J. Arcega-Whiteside, gets intercepted by Darious Williams. The Eagle's defense held the Rams to a 30-yard field kicked by Samuel Sloman. Rams up 24-16.
Quarter 4: The next drive, the Eagles kick a 33-yard field goal, with the score now 24-19 Rams winning. LA runningback, Darnell Henderson breaks free, and gets a big gain down the field for the Rams. Goff airs it out and Higbee catches his 3rd touchdown pass. LA jumps to a 31-19 lead. The Ram's defense stops Philly's offense on 4th down and gives them a chance to put this game out of reach even more. Henderson runs in for a touchdown and the extra point attempt is blocked. The Eagles now look to just put up garbage time points, but Troy Hill intercepts Wentz's pass and the Rams win 37-19.
The Eagles and Rams both look like they are headed in opposite directions this season. The Rams, despite losing Todd Gurley, Brandin Cooks, among others, have played very well so far. The Eagles, however, despite their hype, have dealt with poor performance and injuries. For Philly, Wentz threw for 242 yards, threw two interceptions, and rushed for a touchdown. Sanders led the team in rushing yards with 95 and a single touchdown. DeSean Jackson led the team with 64 receiving yards. For Los Angeles, Goff passed for 267 yards and threw three touchdowns. Henderson rushed for a team best 81 yards and a touchdown for the day. Kupp also had 81 yards, but in receiving yards, and Higbee racked up three touchdowns as well. LA continues to exceed expectations as they look to fight for the NFC West title, while Philly struggles to get anything going in a weak NFC East division.