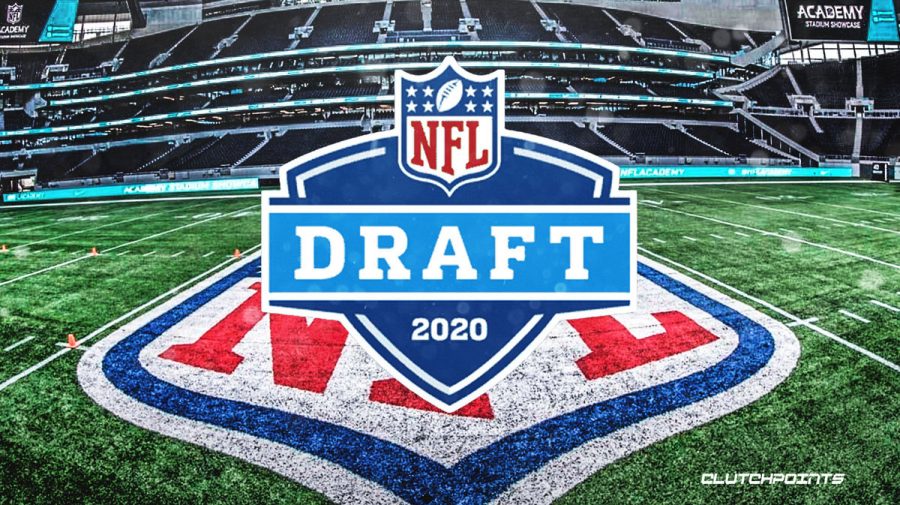 NFL 2020 virtual Draft 1st round recap
This years' NFL draft is definitely a special one. Due to the unfortunate circumstances of the Covid-19 outbreak, the draft was unable to be held in Las Vegas, and everyone would be staying at their homes. Commissioner Roger Goodell announced the 1st round picks from his basement, and even let fans still boo him. Coaches and general managers sent in their picks from their homes, and the players as well watched at home as they waited to be called. This will continue for the final 6 rounds as the 1st round went underway last night.
With the 1st pick, the Cincinnati Bengals select: Joe Burrow, Quarterback, LSU.                                        As expected, the Bengals took Joe Burrow 1st overall. Burrow was the QB for LSU and won the National Championship Game, along with winning the Heisman trophy in 2020. He was a can't miss prospect for the Bengals who needed a new QB to replace Andy Dalton after going a woeful 2-14 last season. Now having the best QB in the draft on their team, the Bengals look to turn themselves into a contender in the NFL.
With the 2nd pick, the Washington Redskins select: Chase Young, Defensive End, Ohio State.                 Another expected pick as the Redskins take Chase Young 2nd overall. But nonetheless a great pick, as Young was the best player in the draft, and would've been taken first overall if QB wasn't the Bengals biggest need. He was a candidate for the Heisman but Burrow ended up winning it. Chase Young will be going home as he grew up a Redskins fan around the area. He will be reunited with former teammates Dwayne Haskins and Terry McLaurin. He will also be joining a loaded D-line, and will look to wreck havoc against opposing quarterbacks in years to come.
With the 3rd pick, the Detroit Lions select: Jeff Okudah, Cornerback, Ohio State.                                         As the Lions traded away cornerbacks Darius Slay and Quandre Diggs, it was clear they were in need of some defensive players, and the next best one available was Okudah. There were talks of the Lions trading down in the draft, and pretty many began to believe that would happen, but in the end they decided to stay put and get their guy. Hopefully Okudah can improve this Detroit defense at least enough to make it easier for Stafford's offense.
With the 4th pick, the New York Giants select: Andrew Thomas,Offensive Tackle, Georgia.                     The Giants were another team getting involved in possibly trading down, but just like Detroit, they stayed put. With a plethora of options in terms of if they'd take an O-lineman or Isaiah Simmons, the Giants ended up selecting Andrew Thomas to help out their atrocious offensive line. A possible Andrew Thomas vs. Chase Young twice a year should be a fun rivalry to watch.
With the 5th pick, the Miami Dolphins select: Tua Tagovailoa, Quarterback, Alabama.                              This has been discussed since the beginning of the 2019-2020 season about the Dolphins tanking to get the 1st overall pick to take Tua. That did not happen the way everyone expected but because of Burrow, they were still able to select Tua. As it got closer to the raft, more rumors began flying around that the Dolphins might be taking Justin Herbert or an offensive lineman over Tua due to his recent injury. Of course it all worked out in the end. After probably learning under Ryan Fitzpatrick for a couple games next season, we'll get to see how good Tua really is.
With the 6th pick, the Los Angeles Chargers select: Justin Herbert, Quarterback, Oregon.                        The third quarterback is off the board in Justin Herbert. As Tua is selected by Miami, Los Angeles got Herbert. Some may argue that Jordan Love is better, and to that we will see. Now i don't not believe Justin Herbert will start right away, or not even this season considering the Chargers believe they can get something done with Tyrod Taylor. But to whenever Herbert does start, he'll have tons of weapons to work with including Keenan Allen and Hunter Henry. He should have fun working with them.
With the 7th pick, the Carolina Panthers select: Derrick Brown, Defensive Tackle, Auburn.                     The Panther had shown already that they are rebuilding as they released QB Cam Newton, tight end Greg Olsen, and most of their relevant defensive players, and they especially lost guys on the line such as Gerald McCoy and Dontari Poe. They need impact players on the defensive so they can compete in the NFC South. It really came down to Derrick Brown and Isaiah Simmons, and they ended going with Brown who joins the team as they go into a rebuilding year and have him as a piece of the puzzle to become contenders again.
With the 8th pick, the Arizona Cardinals select: Isaiah Simmons, Linebacker, Clemson.                            The first shocker so far was the Cardinals selecting Simmons at 8 overall. The Cardinals badly need offensive linemen to protect young quarterback Kyler Murray, and with only one o-lineman taken so far, they had a lot to choose from but shockingly took Isaiah Simmons. Not a bad pick at all, as Simmons is a beast who not only plays linebacker, but pretty much all other defensive positions as well. This really is a great pick as it will help Arizona's defense, just surprised they snagged him from Jacksonville as they need protection up front. Look forward to watching him alongside Chandler Jones cause trouble for the rest of the NFC West.
With the 9th pick, the Jacksonville Jaguars select: C.J. Henderson, Cornerback, Florida.                          With being expected to draft Isaiah Simmons, that chance was taken from them when he was drafted by the Cardinals, so Jacksonville went with what they thought was the next best option on defense in C.J. Henderson. It was clear the Jags are rebuilding as they released or traded pretty much their entire defense. They are ranked the worst team in the league right now as they look to start fresh with young promising guys like Henderson.
With the 10th pick, the Cleveland Browns select: Jedrick Wills, Offensive Tackle, Alabama.                     The Browns addressed  their biggest need by drafting Jedrick Wills at number 10 overall. With all the off-season hype last year going into last season, the Browns flat out did not live up to it at all, partly due to Baker not having a chance to throw the ball sometimes because he had no protection. Wills is a great addition to the line to help Baker get the ball out to his elite receivers and actually become a good team.
With the 11th pick, the New York Jets select: Mekhi Becton, Offensive Tackle, Louisville.                          Another OT is off the board as the Jets take Mekhi Becton. Bit of surprise due to all of the top receivers still available, and the Jets needing those, but was also an understandable pick as well as they do not have a good offensive line. Le'veon Bell had little success behind that line from last year partly due to them being unable to protect him.  Becton looks to help Darnold and Bell improve and make the Jets AFC East division contenders.
With the 12th pick, the Las Vegas Raiders select: Henry Ruggs III, Wide Receiver, Alabama.                    This being a stacked wide receiver draft, the Raiders have decided that the first one drafted would be speedy Henry Ruggs. With all the other offensive positions filled for them, all they needed was some relevant wide receiver for Derek Carr to throw to, and they did just that when drafting Ruggs who will beat out DBs no problem. With drafting him over other top receivers Jeudy and Lamb, Las Vegas must feel great about him.
With the 13th pick, the Tampa Bay Buccaneers select: Tristan Wirfs, Offensive Tackle, Iowa.                   Swapping picks with the 49ers, even though they only moved up one spot, the Bucs selected OT Tristan Wirfs 13th overall. This was a great pick for the Bucs as they needed to bring in more protection now that Tom Brady is QB. The Bucs all loaded all over the roster, and Wirfs makes that even better.
With the 14th pick, the San Francisco 49ers select: Javon Kinlaw, Defensive Tackle, South Carolina.   A great pick for the Niners in selecting Kinlaw adding him to the best defense in the NFL. The Niners had traded Deforest Buckner to the Colts which is why they had this pick in the first place. Their biggest need is wide receiver and probably should've taken one since only one had been taken so far to help Jimmy G, but Kinlaw is a great addition to this scary defense nonetheless.
With the 15th pick, the Denver Broncos select: Jerry Jeudy, Wide Receiver, Alabama.                                Denver got a good one here in drafting Jerry Jeudy. Probably the best receiver in the draft Jeudy is a great route runner, and playing alongside Courtland Sutton, will tear apart opposing secondaries. Jeudy is also a great addition to help second year QB Drew Lock keep increasing getting better.
With the 16th pick, the Atlanta Falcons select: A.J. Terrell, Cornerback, Clemson.                                        Bit a reach for Atlanta in drafting Terrell but a must need in terms of position. It was predicted they would take C.J. Henderson, but Jacksonville took him when they didn't get Simmons. Atlanta also was actively trying to trade up to land the number 2 overall spot but Washington would not give it up. Similar to teams like Carolina and Jacksonville, Atlanta had released a few bigger name defensive players in hopes to start fresh up that side of the ball, and Terrell looks to be part of it.
With the 17th pick, the Dallas Cowboys select: Ceedee Lamb, Wide Receiver, Oklahoma.                          A guy who by many was ranked as the best receiver in the draft somehow fell to the Cowboys at 17. This partly due to the Jets and 49ers passing up on selecting a receiver. Some think the Cowboys drafted him to spite the Eagles who desperately need receivers and the Cowboys already have Amari Copper and Michael Gallup and that have defensive needs they probably should have addressed. But you have to agree that when someone like Ceedee Lamb falls to you, whether it is to spite a fellow rival or not, you take him. Dak gets a great receiver in Lamb.
With the 18th pick, the Miami Dolphins select: Austin Jackson, Offensive Tackle, USC.                              After drafting their QB of the future, the Dolphins draft him some protection. Some think he went too early and is a second round talent, and Josh Jones may have been a better option, but it looks like Miami saw something to take him with the 18th pick.
With the 19th pick, the Las Vegas Raiders select: Damon Arnette, Cornerback, Ohio State.                     Probably the biggest reach in the 1st round. The Raiders take Damon Arnette 19th overall. After addressing their wide receiver hole, they turn to defense and grab a cornerback. Where there were better cornerbacks still available, we'll see how good he does.
With the 20th pick, the Jacksonville Jaguars select: K'Lavon Chaisson, Linebacker, LSU.                          Nice pick here for the Jags with another great weapon to add to their rebuilding defense. Injury history to Chaisson might make him a slight risk to pick, but as long as he stays healthy it should be good.
With the 21st pick, the Philadelphia Eagles select: Jalen Reagor, Wide Receiver, Texas Christian.         The next surprise in the draft is the Eagles selecting Jalen Reagor. This draft is loaded with receivers and any of them could be good, but Justin Jefferson was still available and they passed on him. They need to get Wentz reliable receivers which helps when you take the best available, especially when its one of the top 4. Well seems they like this guy and we'll see how he contributes to the offense.
With the 22nd pick, the Minnesota Vikings select: Justin Jefferson, Wide Receiver, LSU.                          Thanks to the Eagles, the Vikings were able to draft Justin Jefferson. He will be replacing Stefon Diggs who was traded to Buffalo. Should be a fun duo to watch of him and Adam Thielen.
With the 23rd pick, the Los Angeles Chargers select: Kenneth Murray, Linebacker, Oklahoma.              With the Patriots trading their pick to the Chargers, they take Kenneth Murray. Nice addition to an already loaded defense. Do need some O-line help still, but might as well take one of the best guys available to add to their extremely talented team.
With the 24th pick, the New Orleans Saints select: Cesar Ruiz, Center, Michigan.                                          The first center taken in the draft, Saints take Cesar Ruiz. They were looking at taking Kenneth Murray before the Chargers jumped in front and grabbed him. The Saints don't really need a center so they may look to switch him to guard.
With the 25th pick, the San Francisco 49ers select: Brandon Aiyuk, Wide Receiver, Arizona State.       The Niners trade up to the 25th spot to take receiver Brandon Aiyuk. Now addressing their receiver need, he should be a nice addition to work alongside of Deebo Samuel and give Jimmy G another reliable pass catcher.
With the 26th pick, the Green Bay Packers select: Jordan Love, Quarterback, Utah State.                          The absolute biggest shocker so far is the Packers taking a Quarterback in the first round. They need to get Aaron Rodgers some pass catchers, instead they get his successor. This is actually very similar to when the Packers drafted  Rodgers when Brett Favre was about 36 years old, and Rodgers is around that age as well. Jordan Love will most likely have to wait a few years before he starts for Green Bay as Rodgers wants to play for awhile. Definitely a questionable pick.
With the 27th pick, the Seattle Seahawks select, Jordyn Brooks, Linebacker, Texas Tech.                         Seattle decided to draft a linebacker to plat alongside star Bobby Wagner. One of those questionable picks where there were still better options at that positions available and also considering the fact they need better protection for Russell Wilson so he isn't running of this life all the time. Always feel like they take someone weird late in the 1st round and we will see if this one will work out.
With the 28th pick, the Baltimore Ravens select: Patrick Queen, Linebacker, LSU.                                       Speaking of better linebackers available, Patrick Queen was one, and the Ravens were smart enough to select him. Joining the superstar Ravens team, he should give the defensive up front a good boost.
With the 29th pick, the Tennessee Titans select: Isaiah Wilson, Offensive Tackle, Georgia.                       The Titans have decided to go with an offensive tackle to protect QB Ryan Tannehill and provide holes and block for running back Derrick Henry. Nice addition to the team.
With the 30th pick, the Miami Dolphins select: Noah Igbinoghene, Cornerback, Auburn.                          The Dolphins 3rd and final pick in round one is used on Noah. Surprised they went for a cornerback when they have the duo of Byron Jones and Xaiven Howard. They will probably utilize him as a slot corner.
With the 31st pick, the Minnesota Vikings select: Jeff Gladney, Cornerback, Texas Christian.                 Using their 2nd pick in the 1st round, the Vikings take a cornerback as they had released Xavier Rhodes who had not been playing good anymore. Very good pick by them to draft Gladney, and a great 1st round overall for them.
With the 32nd pick, the Kansas City Chiefs select: Clyde Edwards-Helaire, Running Back, LSU.              With the final pick in the first round, the first running back is taken. As this being a receiver draft, running backs would fall to late 1st round picks and the 2nd round. With Damien Williams only performing well consistently in the playoffs, and Kareem Hunt being released, Kansas City needed a young dominate back, and with drafting Clyde, thry hope to get just that.