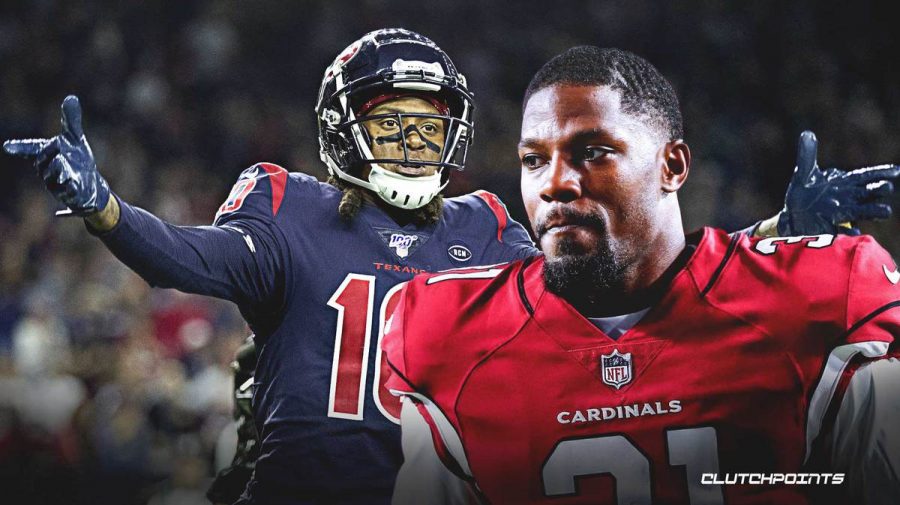 Free Agency Frenzy, trades, and draft news
As we get even closer to free agency, teams have been negotiating with players, and franchise tagging their own. Signings are taking place, trades are being made, and news about the draft due to the Corona virus has come out.
Starting off with free agency, multiple teams have franchise tagged one of their players. Dak Prescott, Shaq Barrett, and A.J. Green are just a couple. The biggest signing today is the Cleveland Browns making Austin Hopper the highest payed tight end in NFL history. Hopper was drafted by the Atlanta Falcons in the 3rd round of the 2016 draft. He has been an elite pro bowl player for Matt Ryan to throw to during his time in Atlanta. Hopper was a top 5 TE in the league this season before an injury caused him to miss a few games, but he was still considered a top 6 tight end. Atlanta, due to low cap space, could not resign him, and it looked as the Redskins, Patriots, and Packers were looking to pursue him in free agency. Almost out of nowhere, the Browns jumped in and now will most likely add Hopper to their roster. Unless something crazy happens, because this isn't official till Wednesday at 4pm Eastern time, Hopper says he is leaning toward Cleveland. The Browns already had a solid TE in David Njoku, so it surprised people when they snagged Hopper. Seems they might plan to trade Njoku unless they plan to make them a duo like when they signed Kareem Hunt last year. The Cleveland Browns now have even less of an excuse to not be good this year with elite players at all offensive positions. They have Baker Mayfield at QB, Nick Chubb and Kareem Hunt at RB, OBJ and Jarvis Landry at WR, and Austin Hopper and David Njoku at TE. They also have Myles Garrett and Denzel Ward on defense.
Not too serious, but the NFL draft will not be held in Las Vegas due to the Corona virus. Thankfully it is still going to be held April 23-25. The new location is unknown, but it looks like it won't be held on water as of now. Also some big signings that happened yesterday were the Vikings resigning Kirk Cousins. He wasn't going to be a free agent as he had one year left on his deal, they just wanted to secure him. Ryan Tannehill though was going to be a free agent, until the Titans resigned him to be their starting QB again as they do not want Tom Brady.
Big big news as it has been announced that the Houston Texans have traded star wide receiver Deandre Hopkins to the Arizona Cardinals. This trade included a 4th round pick going to Arizona as well, and on who and what is going to Houston, the Cardinals former pro bowl running back David Johnson, a 2020 2nd round pick, and a 2021 4th rounder. Houston has been hurting for draft picks, and had very few last year as well. But to trade away possibly the best receiver in the NFL right now is crazy to think about. As of now Arizona has won this trade as they now have Hopkins and Larry Fitzgerald for second-year QB Kyler Murray to throw to. It also already looked like David Johnson was gonna head out as the Cardinals had gotten RB Kenyan Drake from Miami and he balled out in Arizona. As for Houston, time can only tell if they got something out of this trade if these draft picks they got work out. It is interesting though that they took David Johnson. He was a star running back for the Cardinals in years past, but he began showing his age this past season. Also as of now, the Texans still have three RBs that have had an impact on the team. Lamar Miller torn his ACL and missed the whole season which is why they went and got Carlos Hyde and Duke Johnson. It looks as Hyde will leave in free agency, but all three are still on the team currently and now David Johnson has been added too. We will see if this huge move and other moves in the past, will work out for Houston in the long run.