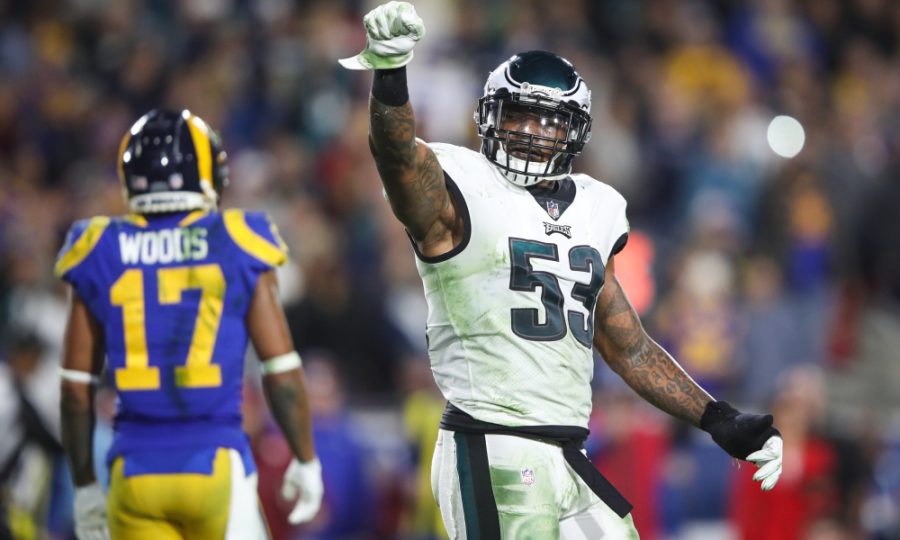 NFC East Update: Eagles Release Bradham, AP Stays In Washington
In recent news regarding the NFC East, Nigel Bradham, a linebacker, was recently cut by the Philadelphia Eagles. Bradham was drafted by the Buffalo Bills in round 4 of the 2012 NFL draft. He then went to the Eagles, and played for them from 2016 to 2019. He finished the season with 61 combined tackles, 29 assisted tackles, and 1 INT, and throughout his career so far he has a total of 619 combined tackles, 216 assisted, and 3 INTs. The Eagles will now look to find younger linebackers most likely in the draft or free agency as they don't have any stand out players in the position. As for Bradham, he now goes into free agency and should look at teams such as the Browns, Texans, and Lions who are lacking in that linebacker position.
In other news, Adrian Peterson, veteran running back for the Washington Redskins, will return to Washington for the 2020 season with a base salary of $2.25 million. The Skins signed AP in 2018, and he performed nicely for them despite the fact he's getting up there in age. He won team MVP last season after rushing for 1,042 yards and 7 TDs. Before Washington, he was on the Cardinals, and before them the Saints. Before that he was drafted by the Minnesota Vikings in the 2007 seventh overall. He won OROY that season. His career-best season was his 2012 season where he rushed for 2,097 yards and won MVP, an outstanding feat for a running back. Going back to the present day now, AP's current rushing career stats are 14,216 rushing yards and 111 TDs. This past season he wasn't utilized at first as running back Derrius Guice had returned from suffering a torn ACL last preseason. That was short lived as Guice struggled all season with injuries and rookie Bryce Love was already out the whole season, so AP still ended up being the Redskins main rusher with 898 yards and 5 rushing TDs. Though Peterson is entering his age 34 season, he has been very reliable for the Redskins and they made the right decision in re-signing him.