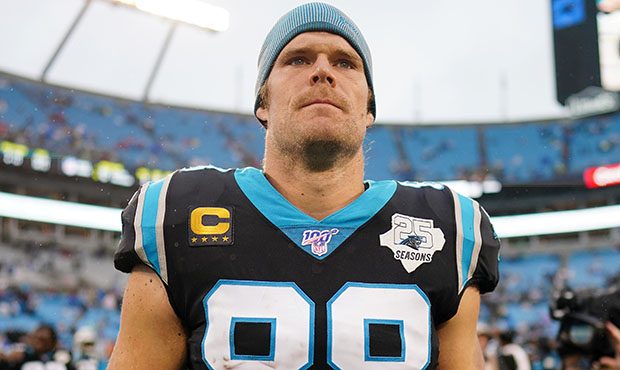 Greg Olsen Signs With Seattle Seahawks
In one of the first major player moves of the off-season, Greg Olsen, the former Carolina Panthers tight end, is signing a one-year contract with the Seattle Seahawks worth $7 million deal with $5.5 million guaranteed. He was able to sign with Seattle because he and the Panthers had already mutually parted ways and he wasn't in any current contracts. 
Olsen was a star tight end for most of the time he played for the Carolina Panthers. He played there for nine seasons, and was a reliable pass catcher and security blanket for quarterbacks. Unfortunately Olsen later on began to struggle with injuries and getting older did not help. He was drafted by the Chicago Bears in the first round of the 2007 draft, and was traded to Carolina in 2011. His current career stats include 8,444 receiving yards, 718 receptions, and 59 touchdowns. This past season he had 597 yards, 52 receptions, and only 2 touchdowns. These are obvious decreases in his numbers compared to his prime years. In the last couple seasons, he has struggled with specifically a foot injury. 
Greg had contemplated retirement after all of this. He then decided he was going to keep playing football and parted ways with the Panthers. He recently had visits with the Bills, Redskins, and Seahawks. It seemed to be that he would sign with Washington due to his old head coach, Ron Rivera, now coaching there, and both sides would like to reunite. But after meeting with the three teams, Olsen decided he felt most comfortable going to the Seahawks. Seattle tight end Will Dissly seemed to be having a break-out season when he suffered a season ending injury. Back-up tight end, Jacob Hollister was a solid replacement for Dissly for the rest of the season though the team kept suffering injuries all over. While Dissly is expected to return next season, it will be nice to have an especially experienced veteran with a strong resume. Olsen would be best utilized if he played as a security blanket for Russell Wilson on third down situations. While Seattle should be getting their starting TE back for hopefully all of next season, it will be interesting to see how they involve Olsen in their game plans as they look to be Super Bowl contenders once again.