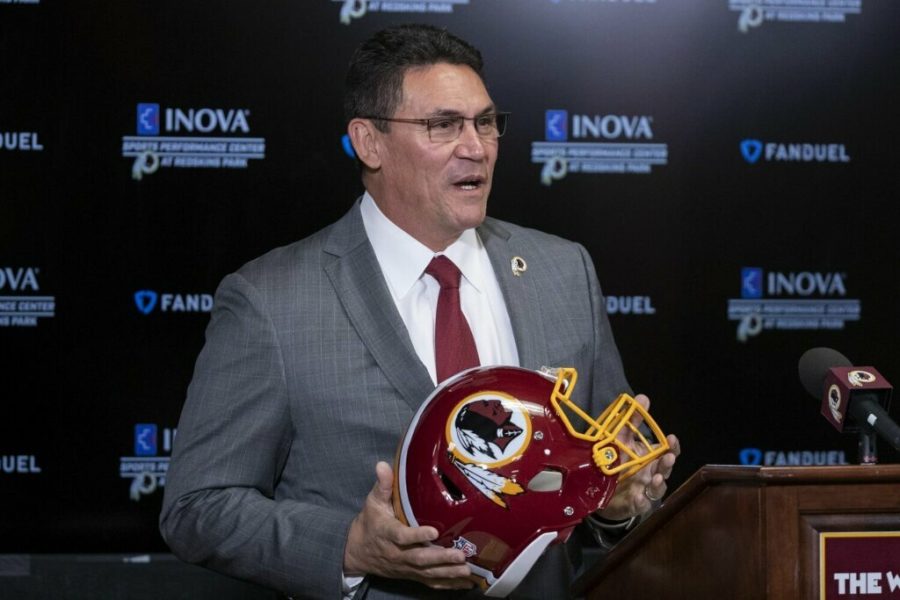 Offseason Spotlight: Washington Redskins
As soon as the season ended, Washington began immediate changes. They had already fired HC Jay Gruden, and Bill Callahan filled in as interim head coach for the rest of the season. Once the season for Washington ended, they went and hired Ron Rivera, ex Panthers head coach, as the new head coach. They also cleaned the house, firing a ton of other coaches, medical staff such as Larry Hess, the head trainer, and was with the team for 17 years. But the most important firing for the Skins was team president Bruce Allen. He'd been with them for 10 years and did nothing to help the team, and was hated by many. With Rivera being hired, he brought over some of his staff from Carolina to fill the positions the Redskins had opened up. Another critical hire was hiring defensive coordinator, Jack Del Rio. They have decided to wait until around draft time to hire their next GM. Team owner Dan Snyder, will be staying out of football decisions, and will let Rivera and the new GM handle that.
The Redskins have also made progress in getting O-lineman Trent Williams back. The star lineman sat out the whole season due to issues with the management, specifically the medical staff in handling his injuries. The Redskins did not trade him, as they were waiting till the offseason to do something. Williams had later stated that if the team pays him and takes care of him, then he'll be back. This is becoming even more relevant as Washington fired Bruce Allen, head trainer Larry Hess, and other med staff. These were the people Williams had issues with and now with them gone, he may come back. Most recently, Ron Rivera met up with Trent to discuss the current situation and it was reported that the meeting went well. Slowly but surely, the Skins seem to be getting closer to getting Williams back.
Rumors were appearing that Quinton Dunbar, Washington's star breakout cornerback, requested to be traded or released. This sparked worry and confusion as Dunbar finally had a breakout year, the team looks promising for the future. The Redskins are probably interested in paying him too as he broke out this season. This quickly settled as Dunbar stated he never said this and just wants to know where he stands with the team. Just another reporter twisting a player's words into something totally false.
Probably the most shocking thing so far this off-season for the Redskins was that it was reported the Bears were getting in contact with the Skins about trading them the 2nd overall pick, and in return, give them Kahlil Mack. The Bears have appeared to be inquiring with other teams with top picks about trades for them as well. It is thought that they might be interested in taking a QB to replace Trubisky, or at least to warn him to start playing better or he'll be benched. This is a tempting situation the Skins are in as Mack is an insane player, but would the Redskins give up your chance to draft Chase Young? 
Other Redskins related events this offseason include Adrian Peterson winning the Art Rooney Sportsmanship award, and ageless wonder TE Vernon Davis retiring after 14 seasons in the NFL.
Most recently, the Redskins have begun releasing players, and making more cap space available. The biggest name that has been released so far is cornerback Josh Norman who the Panthers traded to the Redskins back in 2016. Overall, he has been unproductive for them. Because he was so good on the Panthers, the Redskins had handed him a big contract, and was their highest paid player. He blew coverages, and was being outrun. Now with him gone, Washington saves around $12.4 million in cap space. Another player they released was WR Paul Richardson Jr. Like Norman, he was drafted by a different team, in this case, the Seahawks. He was also good on his team before being traded to the Skins. He hasn't panned out how the Redskins hoped, and now with Terry McLaurin and the other young receivers, such as Kelvin Harmon and Steven Sims Jr, taking over the receiving core in DC, it became clearer the Redskins would move on from Richardson sooner than later. 
With only over a month removed from the regular season, the Redskins have been one of the most productive teams this off-season so far. They've needed to rebuild, and are finally doing just that. ESPN ranked the Redskins rookie class the most productive this season, which is great in their rebuilding process. Plus having this already productive offseason, and are in the position to draft Chase Young. If the team's management can continue to make good decisions, it won't take too long for them to become contenders.