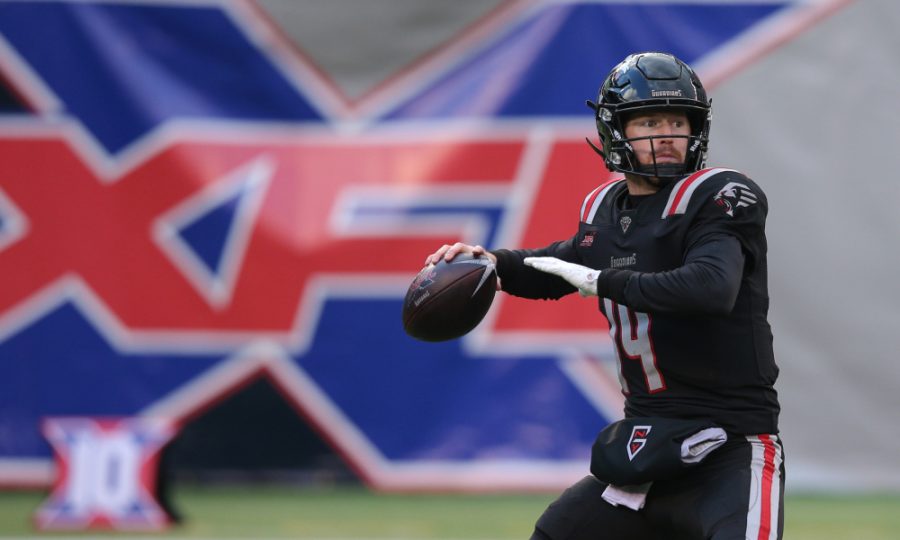 Brad Penner-USA TODAY Sports
The XFL Returns With Week 1 In The Books
The XFL is back! The Xtreme Football League, which is played in the winter and spring, is a professional American football league that was founded and is owned by Vince McMahon. It was first introduced to the football world back in 2001, where it played its first and only season, and was owned by WWE and NBC. McMahon has now revived the league and is giving it another go. 
The XFL commissioner is none other than Oliver Luck, Andrew Luck's dad. There are currently 8 teams competing in the XFL: the DC Defenders, St. Louis Battlehawks, Tampa Bay Vipers, and New York Guardians represent the XFL East.The Seattle Dragons, Dallas Renegades, Houston Roughnecks, and Los Angeles Wildcats represent the XFL West. In comparison to the NFL, the XFL does vary in some rules. The XFL has changed their kickoff rules by that the players on each team line up 5 yards apart from each other, and can start running once the returner catches the ball. This is to reduce injury risks and hope for more explosive return plays. One rule the NFL should absolutely consider adapting from the XFL is that all plays are in the booth, which will help with the NFL's officiating problem. The XFL's replay official is also present in the stadium, while the NFL's is stationed in New York. Another big rule difference is that the XFL has eliminated the extra point attempt by the kicker and instead can attempt a 1-point play from the 2-yard line, 2 from the 5, and 3 from the 10. Most fans seem to enjoy this new part of the XFL in which they have coach to players conversations mic'd up and reporters can go interview players right after a play. 
Week 1 of the XFL went underway last weekend, and it seemed to go very well. Some very interesting things have occurred. This weekend alone there was already a player getting sick on the field, fans eating cheese and staring at the cameras, a streaker, and plenty of big hits just to name a few. On Saturday the DC Defenders beat the Seattle Dragons 31-19, and the Houston Roughnecks beat the LA Wildcats 37-17. On Sunday the NY Guardians beat the Tampa Bay Vipers 23-3, and the St. Louis Battlehawks beat the Dallas Renegades 15-9. After Week 1, plenty of people are hyped for this revived league, and are excited to see how their first season back will go.