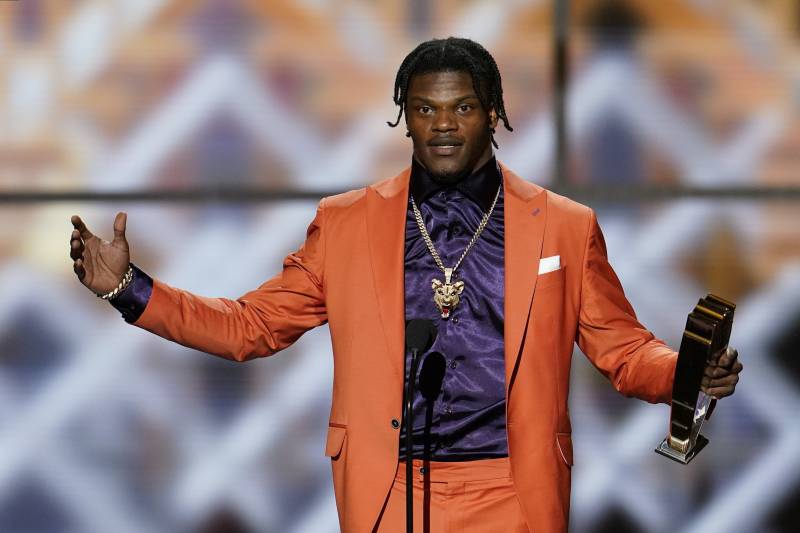 NFL Honors Recap 2020
Most Valuable Player: Lamar Jackson, QB, Baltimore Ravens
Lamar became only the second unanimous MVP winner in NFL history, the only other one being Tom Brady in 2010. He broke Michael Vick's single season rushing yards by a quarterback by rushing for 1,206 yards. Jackson also led the league in passing TDs with 36. He passed 3,127 yards as well. By greatly improving his passing game, added onto his already incredible ability to use his legs, Lamar was able to excel this year, and lead his team to a 14-2 record on the season. Not bad for a "running back". 
Offensive Player of the Year: Michael Thomas, WR, New Orlean Saints
"CantGuardMike" proved his Instagram handle as he broke the single-season record for receptions with 149, passing Marvin Harrison. He also lead all receivers in receiving yards with 1,725 yards along with nine touchdowns. This award came down to Michael Thomas, Christian McCaffrey, and Lamar Jackson. In the end Michael Thomas performed the best to win this award. It really goes to show that you really can't guard Mike.
Defensive Player of the Year: Stephon Gilmore, CB, New England Patriots
Gilmore is the first Patriot to win this award. This was a tighter race between players such as Gilmore, Chandler Jones, Shaq Barrett, and TJ Watt. Gilmore ended up winning it, with tying for the league lead in INTs and had 20 passes defended, which led the league. He also allowed only a 44% catch percentage and had more TDs, two, than TDs he allowed, zero. His outstanding, dominating performance on the field year absolutely earned him this award. 
Offensive Rookie of the Year: Kyler Murray, QB, Arizona Cardinals
This is definitely the most controversial award winner this year. Kyler did start all 16 games this season, and was the only rookie QB to do so. He also performed the best out of all rookie QBs, mainly because he started all 16. He threw for 3,722 yards and threw 20 TDs along with 12 INTs. These numbers aren't bad at all for a rookie QB. Many people believe Josh Jacobs, or possibly AJ Brown, should've won OROY, and that Murray was below them with Terry McLaurin and Miles Sanders. Besides that, the future does look bright for the young QB, who's been criticized endlessly for his height. 
Defensive Rookie of the Year: Nick Bosa, DE, San Francisco 49ers
Nick Bosa without a doubt was the most stand out defensive rookie of the 2019-2020 season. He helped boost a 49ers defense that quickly became one of the best this season, leading San Francisco to a 13-3 record, and to the the Super Bowl. The other defensive rookie candidates, Josh Allen and Maxx Crosby, both had more sacks than Bosa, but Bosa had more QB hits and tackles, and the advantage of being on a team that went to the Super Bowl.  
Comeback Player of the Year: Ryan Tannehill, QB, Tennessee Titans
Another award winner that could've sparked some disagreement was Ryan Tannehill winning CPOY. Now, granted, he was still a top candidate because the Dolphins traded him to the Titans during the off-season, as he was to be the backup to Marcus Mariota. But when Mariota was benched Week 6, after going 2-4, Tannehill started from then on out. He snuck Tennessee into the playoffs with 9 wins, and got to the Conference Championship; a great comeback story for Ryan. He also completed 70.3% of his passes, and lead the league in yards per attempt throwing 22 TDs to 6 INTs. To be fair, Jimmy Garoppolo might've had a better comeback year than Ryan, considering that he came back from an ACL tear last season, a year in which the Niners went 4-12, and with him back, they went 13-3 and to the Super Bowl. He only got one less vote than Tannehill for the award. Nonetheless, Tannehill still performed great, and the TItans are looking forward to seeing him play next season from game 1.
Coach of the Year: John Harbaugh, Baltimore Ravens
Harbaugh led Baltimore to a 14-2 record this regular season, the best in the league, and in Ravens franchise history. He also turned Lamar Jackson from basically a running back, into a great QB and league MVP. Very impressive by this Ravens team no one saw coming this year, and it seems will dominate for years to come.
Walter Payton Man of the Year: Calais Campbell, Jacksonville Jaguars
Truly one of the most special awards a player could receive. Campbell has donated money to his foundation, the Charles Richard Campbell Foundation, this season based on team and individual accomplishments. It is committed to teaching younger people about critical life skills.
Other Awards Include the Following:
Assistant Coach of the Year: Greg Roman, OC, Baltimore Ravens
Unstoppable Performance of the Year: Patrick Mahomes, QB, Kansas City Chiefs, 4 TDs in one quarter
Clutch Performance Play of the Year: Miami Dolphins
FedEx Air and Ground Players of the Year: Lamar Jackson (Air), QB, Baltimore Ravens, and Derrick Henry (Ground), RB, Tennessee Titans
Art Rooney Sportsmanship Award: Adrian Peterson, RB, Washington Redskins
Celebration of the Year: Bye Bye Bye, Seattle Seahawks
Fantasy Player of the Year: Christian McCaffrey, RB, Carolina Panthers
Anything But Ordinary Player of the Year: Larry Fitzgerald, WR, Arizona Cardinals