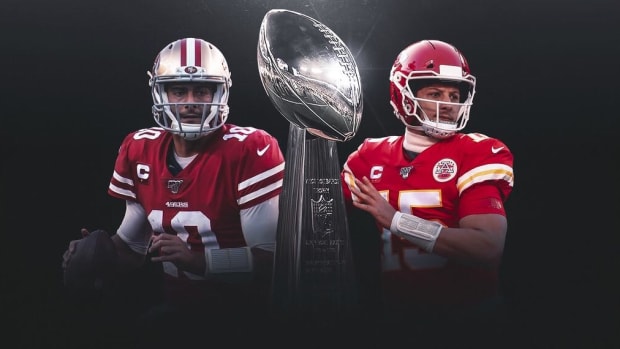 Super Bowl LIV: San Francisco 49ers vs. Kansas City Chiefs preview
The wait is almost over. Super Bowl LIV is here. Two of the best teams in the NFL will go head to head, and the winner is awarded the Lombardi Trophy. The San Francisco 49ers and Kansas City Chiefs will face off at Hard Rock Stadium in Miami, Florida at 6:30pm. Let's evaluate each team and see what they have to offer to win the Super Bowl.
Kansas City Chiefs:
The Chiefs have one of the NFL's most dominant offenses. They have the best quarterback in the league in Patrick Mahomes. His TD-INT ratio this season was 26:5. He threw for 4,031 yards, had a completion percentage of 65.9, and a rating of 105.3. He did miss two weeks this season due to injury, and when he returned, wasn't playing his best football for a little bit, but it didn't take him long to get back to his old self. He makes some insane throws and can scramble forever. Another part of what makes this Chiefs offense so great is their receiving core which consists of Tyreek Hill, Sammy Watkins, Mecole Hardman, and Demarcus Robinson. The Chief that stands out the most here is Tyreek Hill a.k.a Cheetah. Not only is Hill one of the best receivers in the league, but he is also one of the fastest. This season he had 58 receptions for 860 yards and seven TDs. He did miss a few games earlier in the season due to injury, which is why his stats aren't what they usually would be. Tyreek is a crucial part to this team. Whenever he gets the ball in his hands, he is dangerous. The rookie Mecole Hardman has also been an important part to this Chiefs team,especially its special teams. He just made the Pro Bowl this year as the punt returner. He could have a critical impact in this game as where the Chiefs start with the ball. As if these guys weren't enough weapons for Patty Mahomes, he also has one of the best tight ends in the league too. Travis Kelce. Kelce is currently the second best TE in the NFL. He had 1229 receiving yards, 97 receptions, and five TDs this regular season. This gives the opposing defense even more to worry about when they have to cover both Hill and Kelce. Even if they are both somehow covered, Mahomes will just throw a bomb to one of his other receivers. The one weakness on this offense are the running backs. Damien Williams, when he first replaced Kareem Hunt year, balled out in the playoffs. He was unfortunately less productive this season, partly due to an injury, but he has shown flashes again this postseason. The aging Lesean McCoy has not been very productive since he joined the Chiefs this season. Besides that, this Kansas City offense is definitely a force to be reckoned with.
By no means is their defense elite but changes were made in the offseason. Players such as Justin Houston and Dee Ford went to different teams. The Chiefs picked up Tyrann Matheiu from the Houston Texans, and received Frank Clark through a trade with Seattle. Their defense went from nothing to something. They can make more big plays now With both Frank Clark and Chris Jones up front, and Tyrann Matheiu the Honey Badger running all over the field. Kicker Harrison Butker has been a great reliable kicker, and O-Lineman Mitchell Schwartz has protected his star QB well. Head Coach Andy Reid is a surefire HOFer when he retires, and a Super Bowl win would solidify it even more. He's been to the big game once before with Donovan McNabb and the Eagles, but lost to the New England Patriots. Andy has had a reputation of bad clock management and not being able to win big games. This was shown when Alex Smith was QB. They would make the playoffs most of the time but never get anywhere in them. It was that way until Patrick Mahomes was named the starter in the 2018 season. Reid now has another chance to win his first Super Bowl, and the second in franchise history. 
San Francisco 49ers:
Well I'm sure the Niners don't regret getting Jimmy G from the Patriots. Unfortunately, he tore his ACL last year early in the season, and the team went 4-12 without him. Now with Jimmy back and healthy this year, they are in the Super Bowl. But Garopollo and the offense weren't the biggest reason they are where they are; it was the defense. Hands down the best in the league. Their defensive line is loaded with talent: Nick Bosa, Arik Armstead, Dee Ford, DeForest Buckner, and Soloman Thomas. Rookie second overall pick Nick Bosa has been amazing for this team in his first year in the NFL recording 9 sacks, 32 tackles, 1 INT, and 1 FF. The 49ers have got something special in him. It's an interesting story for Dee Ford. A huge reason why most people know him was because he was called for offsides in the AFC Championship game last year costing the Chiefs the win as they had just picked off Brady and were about to seal the win. He was later traded to the 49ers. He will now face off against his former team in the Super Bowl. This will be a possible revenge game for him. Along with the powerhouse D-Line, the Niners have a couple star linebackers in Kwon Alexander and Fred Warner. Kwon had gotten injured during the season but luckily came back for the playoffs. Warner just had his breakout year recording 89 tackles, 3 FF, 3 sacks, and a single INT. It doesn't end there, cornerback Richard Sherman after signing with the rival Niners did not record a single INT last year. This year though he had 3 in the regular season along with 2 this postseason. He made it back to the Pro Bowl, and is once again a top CB in the NFL. The Niners have weapons all over their defense.
While their offense in nowhere near as good as their defense, it still remains something to watch out for. They have a core rushing group of solid running backs Raheem Mostert, Matt Brieda, and Tevin Coleman. Anyone of them is poised to have a breakout game. Keeping the defense guessing by switching in and out this trio of guys will surely have a positive impact for this run heavy team. As mentioned before, the Chiefs have the second best TE in the game. The reason why he's second is because one TE is better. The 49ers have that TE. George Kittle. Kittle had his breakout year last year by setting the single season record for receiving yards by a tight end with 1,377. And he did that mainly with the backup QB Nick Mullens. Not only Kittle the best tight end, a funny guy, and looks like the next Gronk, he is also a great blocker. Sometimes helping out the O-Line protect Jimmy or make a path for one of the backs to run through. George Kittle is something special. Now onto the quarterback position. Jimmy Garopollo led the Niners to a 13-3 record, and now are going to the Super Bowl. He threw for 3.978 yards, had a TD:INT ratio of 27:13, and a rating of 102. I'd say those are pretty good numbers for a backup QB playing his first full season on a new team. Not only does Kittle help this very attractive man win games, but so do wide receivers rookie Deebo Samual, and vetern Emmanual Sanders who the Broncos traded to the Niners this season back in October. Just like the Chiefs, the 49ers have a great reliable kicker in Robbie Gould. Head Coach Kyle Shanahan is in his second year as head coach of the 49ers. After that forgettable 2018 season, Shanahan turned this team into a SB contender with an elite defense, scary RB trio, elite TE, and great QB. He now has the opportunity to bring this franchise its sixth SB win.
These two great teams are a pretty even matchup, but in different aspects. The Kansas City Chiefs are an offensive pass heavy team while the San Francisco 49ers are a defensive team who are also a run heavy team on offense. Two very different teams in terms of strategy, so it should be very fun to watch them face off in the biggest game of their players' lives.