BASH Welcomes First Freshmen Class
The move to high school comes with pros and cons, 9th graders say.
After several years of tedious construction, BASH finally welcomed its first freshmen class this fall.
With the added class, BASH now has 2,200 students.
While many say they are enjoying more freedom at the high school, the leap to such a large school has been challenging for some. 
"It's a big school, and we need more time to get from class to class," 9th grader Emma Felegie said.
She said getting caught up in the crowded rush has caused some embarrassing moments.
"I did fall up the steps."
BASH's size isn't the only thing about the school that's overwhelming the freshmen. The increased workload is fraying the nerves of some.
"Junior high is not as stressful as high school," 9th grader Zack Hoffman said. "There's a lot more work, a lot more homework." 
Other freshmen agree.
"[The high school] has made me more stressed and tired," Erin Goldstein said.
Katherine Clarkson also is struggling.
"[One challenge I've faced is] having time to get all of my classwork done. I'm in honors biology, honors English, Algebra 1, and then I'm in honors social studies. I would say I do two to three hours [of homework each night]. Mostly two hours, but sometimes it gets rough," Clarkson said.
Despite the increased work, Katherine is happy overall about the move to BASH for 9th grade.
"I'm glad they moved us up to the high school," she said. "You meet new people, you get more experiences. I took a bunch of classes that I've never done before."
To make the school seem smaller, some freshmen are trying to get involved in a club at BASH.
"I have so many different opportunities," Erin said. "I'm in the Pride Club."
Emma said she is going to join ARC Club, which is a group that works with life skills students. She is also considering becoming a library aide.
Joining a team is another way for new students to find a niche at the high school.
"I'm going to try out for sports at the High School," Zack said. "For winter, basketball; for spring, lacrosse."
Zack also said he is enjoying his newfound independence and not being forced to do things like use his locker.
"[BASH is] pretty fun," Hoffman said. "Unlike the junior high, you get more freedom."
About the Contributor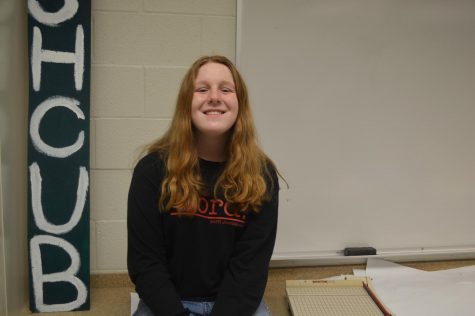 Marlaina Garczynski, Staff Writer
Marlaina is a sophomore who loves to read and write. In junior high, she wrote for the East Observer, but thinks writing for the BASH Cub is much more...