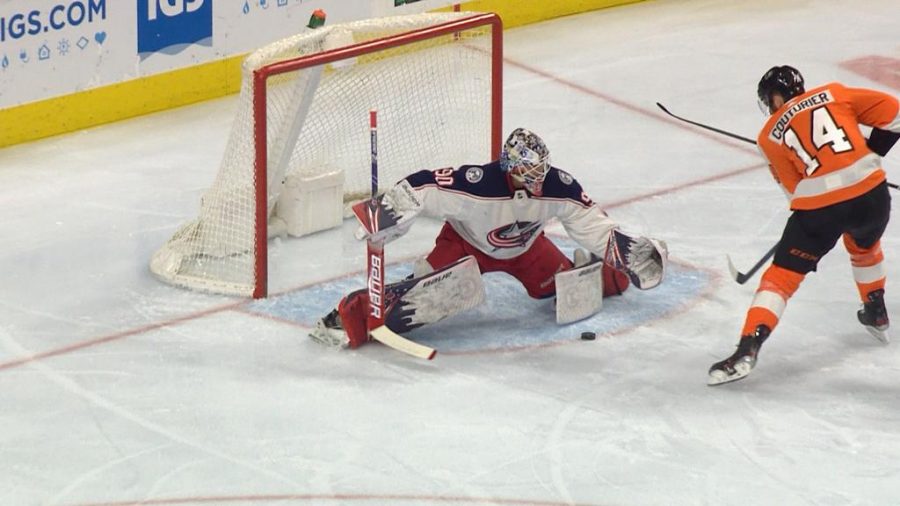 Flyers Movin' Up After Huge 5-1 Win Over Columbus
It may only be February, but nearly every game has a playoff flavor to it for the Flyers right now. Tuesday's contest between the Flyers and Blue Jackets was especially critical, and the Flyers came out on the victorious end, knocking off Columbus 5-1 in a statement win.
Coming into the game, the Flyers found themselves as the #2 wild card, right behind Columbus, who held the #1 wild card spot. With that being said, Tuesday's game had huge implications on the Metropolitan standings. And the Flyers were ready.
The Flyers came out firing first, as Kevin Hayes got Philly on the board in just 3:28 with his 18th goal of the season. A minute later, Sean Couturier put the Flyers up 2-0 with a beautiful breakaway opportunity that he sealed with a dirty fake to go right through the 5-hole of Columbus' goalie Elvis Merzlikins, for his 18th goal on the season as well. It was a strong start to the game, and Philly would never lose that lead for the rest of the night.
After Couturier's goal in the 1st,  it would take until 12:32 in the 2nd period for another score for either team, as Flyers' Philippe Myers netted his 4th goal of the season to make it 3-0 Flyers. 5 minutes later, Columbus finally got on the board with a power-play goal by Oliver Bjorkstrand to make it 3-1 Flyers to end the 2nd period.
3:40 into the 3rd period, the Flyers added another goal as Travis Konecny scored his 20th goal of the year to make it 4-1 Flyers. A little over mid-way through the final period, Claude Giroux put on a puck-handling clinic, as he assisted Jakub Voracek's goal all while on his knees. It was a sort of demonstration of wizardry to help put the Flyers up 5-1, and put the final nail in the coffin for Columbus.
Carter Hart had a solid night in-goal for Philly, making 28 saves on 29 shot attempts from Columbus. It's a strong bounce-back after allowing 4 goals to Tampa on Saturday.
With the win, the Metropolitan gets shaken up a bit. The Flyers improved to 33-20-7 with 73 points, moving them from the 2nd wild card to 3rd in the Metro Division, 6 points behind the 2nd place Capitals, and 7 behind the 1st place Penguins. The Islanders, Hurricanes, and Blue Jackets now all trail with 72 points, making for a still-intense situation as we get closer to playoff time. What makes it even more interesting, the Flyers and Blue Jackets will rematch, this time in Columbus, on Thursday night.