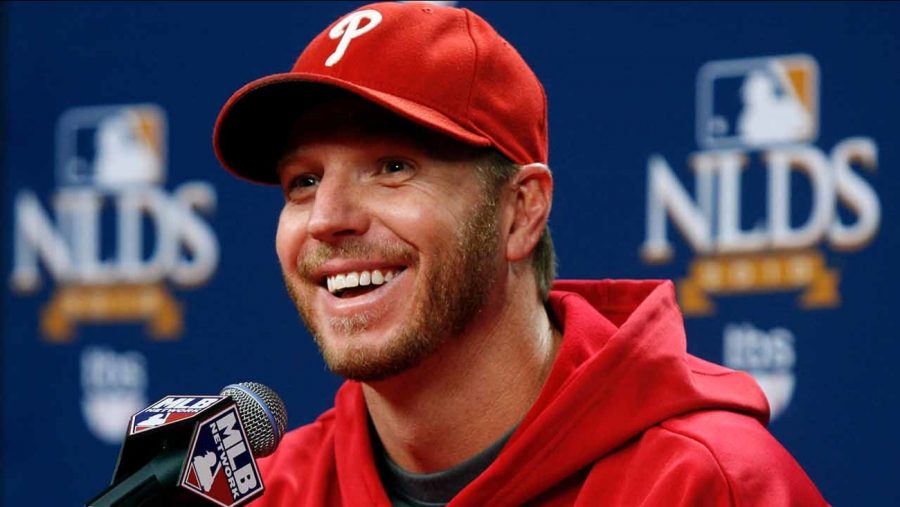 Phillies announce retirement of Roy Halladay's #34
The Phillies announced on Monday that the team would be officially retiring the late Roy Halladay's number 34 in the 2020 season. The ceremony will be held on May 29th, marking the 10 year anniversary of Halladay's perfect game against the Florida Marlins in 2010.
It comes as no surprise that the organization is retiring Halladay's number,  and the timing couldn't be more fitting. Halladay spent 4 seasons with the Phillies after spending the majority of his career with the Toronto Blue Jays. After joining the Phillies in 2010, Halladay made an unrivaled impression in that short amount of time. On May 29th, 2010, Halladay put together a masterful performance as he tossed a perfect game against the Florida Marlins in Miami. It remains to this day just the 2nd perfect game in Phillies history, the other achieved by Jim Bunning in 1964. Later that season, Halladay got his first opportunity to start in the postseason, and he made the most of his chance. On October 6th, 2010, Halladay tossed a no-hitter against the Cincinnati Reds in Game 1 of the NLDS at Citizens Bank Park, which is just the 2nd postseason no-hitter in MLB history. And to think it was his first postseason start is even more mind blowing. In 2010, Halladay made history in his first season in Philly, becoming the first player to ever throw a regular season and a postseason no-hitter in the same season.
Outside of his single-game accomplishments, Roy "Doc" Halladay gathered numerous accolades while donning the Phillies' pinstripes. He won the Cy Young award in 2010, and was twice voted in as an All-Star, including being named the starter in 2011.
His playing days were over after 2013, as injuries finally became too much to overcome. But don't think he didn't try to stay on the field. Several teammates recalled just how hurt he was in his final starts, but he continued to battle, not wanting to allow injuries to dictate his career. It was a display of grit that defined who he was in his 4 years in Philly and in his entire career.
In November 2017, the tragic news broke that Halladay's plane had gone down off the coast of Florida, and the star pitcher known for his grit, competitiveness, and devotion to family, was lost in the accident. Not only had he become a beloved figure on the mound, but he was also well known to spend time coaching his son's baseball team. It was a heartbreaking situation, and the MLB did the best thing possible to remember him: induct him into the Hall Of Fame in Cooperstown. On July 21st, 2019, Halladay was voted in to be posthumously inducted onto the walls of Cooperstown. The Phillies have done their own part too.
The Phillies have already inducted Halladay into their own Wall of Fame at Citizens Bank Park, but now, they'll cement his legacy in the most honoring way possible. Now, no Phillie will ever wear Halladay's #34 ever again, and instead, 34 will be placed alongside the other Phillies' greats to have their numbers retired before: #1 Richie Ashburn, #36 Robin Roberts, #32 Steve Carlton, #20 Mike Schmidt, #14 Jim Bunning, and #42 Jackie Robinson.
Despite the fact that we lost Halladay tragically in 2017, his legacy will live on forever, in Philadelphia and beyond. He's got a plaque in Cooperstown and Philly, he'll have a statue at the Citizens Bank Park 3rd base gate, and his number #34 will be forever reserved for Roy "Doc" Halladay. We had the honor of getting to watch him make history, and now, we get to make sure every generation knows the legend of Doc.