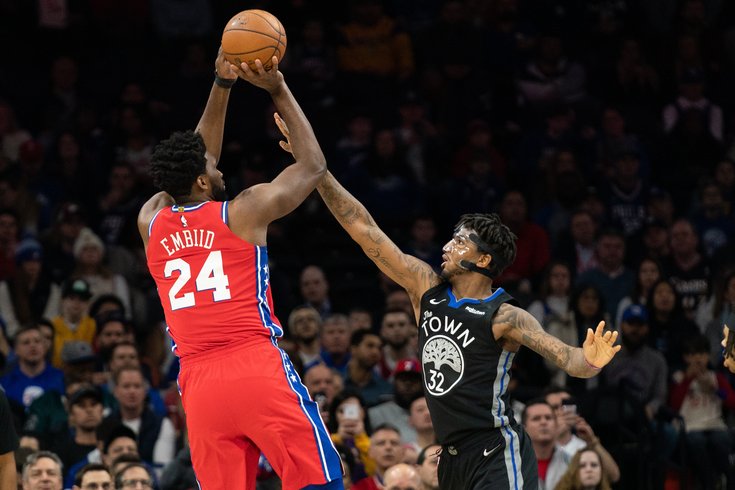 24, in 24, in honor Of 24: Embiid & Sixers take down Golden State
Tuesday night's game at Wells Fargo Center marked the Sixers' first game since the tragic death of Kobe Bryant on Sunday. On Saturday, LeBron James passed Kobe on the all time scoring list in Philadelphia, Kobe's hometown. In the first NBA game in Kobe's hometown since the accident, the Sixers held a powerful pregame memorial ceremony, with Kobe's number 33 – his number at Lower Merion high school – under a lone spotlight on the Wells Fargo Center floor, along with his high school jersey in a frame, standing alone. 9 spotlights lined the court in the dark, representing each life lost in Sunday's tragedy. After a 33 second moment of silence, the Sixers' famous bell tolled 9 times.
Joel Embiid took the floor wearing #24 as opposed to his usual #21, in honor of Kobe Bryant. Both teams took 8-second and 24 second violations to start the game, another gesture in honor of the fallen star.
The Warriors came into the game 10-37, a stark contrast to their dominance in the last few years. However, they hung right along with the Sixers, holding a 27-26 lead after the first quarter. Raul Neto emerged with a strong game, burying several 3-pointers in the 2nd quarter to put the Sixers up 59-54 at halftime.
The Warriors continued to press the Sixers, outscoring Philly 28-27 in the 3rd quarter, trimming the Sixers lead to 86-82 after 3 quarters.
In the 4th quarter, Joel Embiid, still wearing #24, scored on a contested fade-away jumper, a move often utilized by Kobe Bryant. On the play, Embiid scored his 24th point: 24 points, wearing 24, in honor of 24.
For the rest of the 4th, the Sixers finally pulled away, taking down the Warriors 115-104 for their 31st win of the season.
The Sixers now hit the road against the Atlanta Hawks on Thursday night.