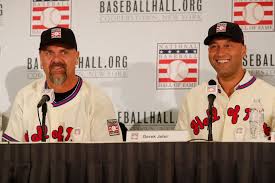 Derek Jeter & Larry Walker enshrined in Cooperstown
Larry Walker and Derek Jeter have officially been named to baseball's list of immortals, as they've been enshrined on the walls of baseball's Hall Of Fame in Cooperstown, NY. What about these two careers truly made them legends worth remembering forever?
Walker's career spanned over 17 years with 3 different teams, as he spent time with the Expos, Rockies, and Cardinals. He made his debut in 1989, playing 20 games in that season with the Montreal Expos. In 1990, his first full season, he hit .241 with 51 RBI 19 home runs. In 1992, he was named an All-Star for the first time in his career, while also winning the Gold Glove Award, the Silver Slugger Award, and finishing 5th in MVP voting. His statistically best season in Montreal came in 1994, as he batted .322 with 88 RBI, a career high 44 doubles, and 19 home runs.
In 1995, he began his tenure in Colorado, where he would stay for the next 10 seasons. As a Rockie, Walker made his mark on the league, batting .306 with 101 RBI and 36 home runs in his first season for the club. In 1997, he slugged a league-leading 49 home runs en route winning his first and only MVP award. His 1999 season was the best season of his career, as he finished the season with a staggering .379 batting average to go along with 37 home runs and 115 RBI. After 10 years in Colorado, Walker hit for over .300 in 7 of those seasons. Eventually, in 2004, Walker made his way to the St. Louis Cardinals mid-season, and spent all of 2005 with the team, which would be his final major-league season.
At the end of 17 years, Larry Walker finished with 1,988 games played, 2,160 hits, 471 doubles, 1,311 RBI, 230 stolen bases, and a lifetime .313 batting average. While he could certainly hit his share of home runs, his defense made him a standout player, as his WAR rating ranks in the top 5 for all outfielders in the last 50 years. His accolades include 5 All-Star appearances, 7 Gold Gloves, 3 Silver Slugger awards, and an MVP award. And now, his plaque will hang on the walls of Cooperstown.
There was little doubt that Derek Jeter would be named to the Hall Of Fame as soon as his name appeared on the ballots, as one of the most iconic players in recent memory. As a New York Yankee for his entire 20-year career, Jeter became a legend across the league, and one of the most notable shortstops of all time.
Jeter made his debut in the 1995 season as a 21-year-old, only playing 15 games and batting .250 across them. In his first full season, in 1996, Jeter immediately rose to stardom. He hit for a .314 average across 157 games, hitting 10 runs and driving in 78 runs. His play earned him the Rookie Of The Year Award for 1996, and he was just getting started. 2 seasons later, in 1998, Jeter was named to his first All-Star game, an honor he would go on to earn in 14 of the next 17 seasons. His most successful season was arguably 1999, as he finished with a .394 batting average, 24 home runs, and 102 RBI: all his career highs in each category. He played an integral part in building the Yankees' late-90s dynasty, helping the Yankees win back-to-back-to-back titles in 1998, 1999, and 2000, the first three-peat in the MLB since the 1972-1974 Oakland Athletics. He would win a 4th title with the Yankees in 2009.
Jeter was responsible for some of the most iconic moments in recent memory, and in history, for the Yankees and baseball as a whole. One of his most iconic moments came in Game 4 of the 2001 World Series against the Arizona Diamondbacks. With 2 outs in the bottom of the 10th inning, just minutes after the clock struck midnight on November 1st, Jeter lifted a walk-off solo-homer into the Bronx night, tying the series at 2 games apiece, earning him the title of Mr. November. While he wasn't a notable home run hitter, his 20 postseason home runs ranks 3rd all time.
Jeter also made the "jump throw" from shortstop one of the most iconic defensive plays in history. On October 6th, 1998, Jeter ranged to the left side to backhand a sharp ground ball, and without stopping, famously jumped and threw the ball in mid-air to record the out at 1st.
After his 20 seasons in the MLB, retiring after the 2014 season, Jeter compiled 3,465 hits, 260 home runs, 544 doubles, 1,311 RBI, 350 stolen bases, and a .310 batting average. He was named to 14 All-Star games, finished in the top 10 in MVP voting 9 times, won 4 World Series titles, collected 5 Gold Gloves, and 5 Silver Slugger Awards.