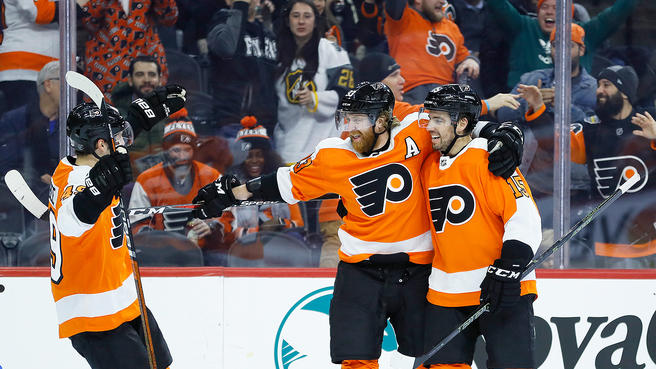 Flyers blank Penguins in rivalry matchup
The Flyers demonstrated their defensive grit on Tuesday night, shutting down the rival Pittsburgh Penguins 3-0 in the final game before the all-star break.
Any battle between the two bitter rivals is a highly anticipated matchup, and Tuesday's was no exception. The Penguins came into the game 31-13-5, sitting at 2nd place in the Metropolitan division, while the Flyers aren't far behind, in 5th place with a 26-17-6.
The game was as competitive as one would've expected it to be in the 1st period, as the period resulted in a defensive battle, as both teams remained tied at 0-0 after the 1st period of play. However, the Penguins blinked first, as Jakub Voracek broke the tie to give the Flyers a 1-0 lead, 5 minutes into the 2nd period. The defensive battle continued, but the Flyers still prevailed, as James van Riemsdyk scored to give the Flyers a 2-0 lead going into the 3rd period. Still, it remained a tough, back and forth defensive battle in the 3rd, until the Penguins conceded the empty net goal to Flyers' Justin Braun, whose attempt to simply clear the puck ended up finding the net and icing the game for good, as the Flyers won 3-0.
It was a strong way to end the first half of the season for the Flyers, on both ends of the puck. On offense, they managed to generate 30 shots on goal and cash in on 3 of them, while limiting the Penguins' shots on goal to just 19. And thanks to a strong effort from Brian Elliot, all 19 shots were stopped, earning him his first shutout of the season.
Now, the Flyers go on a 10-day break for the All-Star game, where Travis Konecny will represent the Flyers this year. After that, they'll take on these same Pittsburgh Penguins, this time out in Pittsburgh.