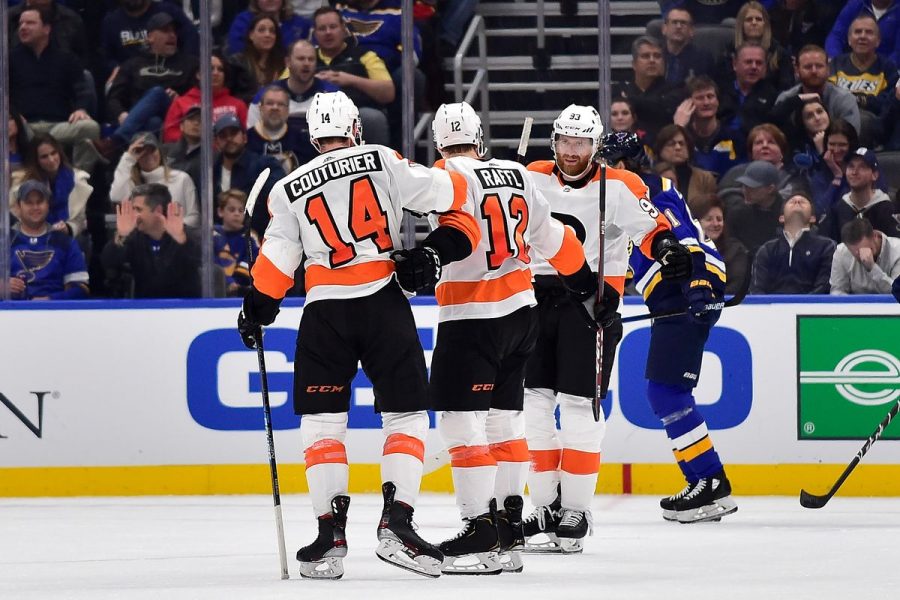 Flyers hang on for 4-3 overtime win in St. Louis
On Wednesday, the 25-16-6 Flyers took on a tough matchup against the 30-10-8 St. Louis Blues. The Flyers were coming off a big comeback win against the Boston Bruins on Monday night, while the Blues were coming in hot off of 4 straight wins. The Flyers prevailed in the matchup despite the Blues' comeback attempt, leaving St. Louis with a 4-3 overtime win.
St. Louis got on the board first thanks to a power-play goal by Justin Faulk early in the 1st period. That would be the summary of the scoring for both teams in the 1st, as Philly trailed 1-0 at the first intermission.
After a quiet 1st period, the Flyers' offense came to life, as Tyler Pitlick and Michael Raffl scored 3 minutes apart to put the Flyers up 2-1. This time, the Blues' offense went silent, as the Flyers carried their 2-1 lead into the 3rd period.
To open the 3rd period, Travis Konecny scored 26 seconds in, giving the Flyers a 3-1 lead. However, the Blues made a late-game push, tying up the game at 3-3 with 2 goals by Ryan O'Reilly and Alexander Steen. That would send the game into overtime.
The Flyers' last game saw them come back from down 5-2 against the Bruins to win the game in a shootout, and they aimed to avoid being on the other side of a similar fate at the hands of the Blues now. Jakub Voracek made sure the Flyers would get 2 points, netting the game winner, securing a 4-3 win over St. Louis.
Brian Elliot finished the night in place of Carter Hart with 30 saves and 3 goals allowed.
The Flyers take on the Montreal Canadiens on Thursday night.