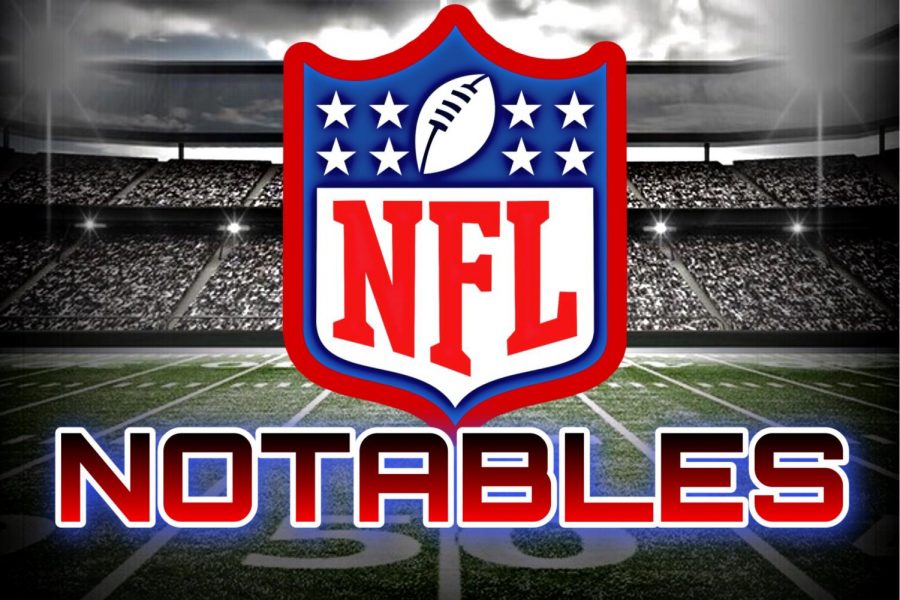 NFL Notables: Week 2
Week 2 of the NFL season was a week to forget for several quarterbacks, including Drew Brees, Ben Roethlisberger, Cam Newton, and Eli Manning. For each, their season is suddenly in jeopardy, if not their entire careers.
Drew Brees: Out 6 Weeks With Torn Thumb Ligament
In the NFC Championship rematch between the Saints and Rams, the Saints and Drew Brees suffered a devestating blow, and this time it wasn't the refs' faults. In a pass attempt by Drew Brees in the 1st quarter of Sunday's game, Brees' throwing hand slammed into Rams' Aaron Donald's hand. Brees went to the sideline, and was unable to grip a football at all, effectively stopping him from returning to the game. The Saints will be without Brees for far more than just one game, as it turns out, as Brees is out for at least 6 weeks with a torn ligament in his thumb. So what does that mean for the Saints? They'll have to rely on Teddy Bridgewater as their QB for the meantime. With several offensive weapons for the Saints, Bridgewater will have options. But can he use those weapons effectively? He only went 17 for 30 in Brees' absence on Sunday as the Saints fell to the Rams 27-9.
Ben Roethlisberger: Season Over After Requiring Elbow Surgery
It's just another bad headline in a season of bad headlines for the Steelers, as franchise QB Ben Roethlisberger walked off the field clutching his throwing elbow during the 2nd quarter against the Seahawks on Sunday. It makes for an interesting situation for the Steelers, as the team just traded away back-up QB Josh Dobbs to Jacksonville, leaving QB duties solely in the hands of Mason Rudolph. For awhile, the feeling has been that Rudolph would be next in line behind Big Ben anyway, but nobody expected him to have to take over so soon. Nonetheless, the Mason Rudolph Era has officially begun in the steel city. He went 12 for 19 after Ben's injury, and managed to settle in decently considering how quickly the situation has unfolded. Despite an early interception, Rudolph managed to throw for 112 yards and 2 touchdowns, despite the Steelers' 2-point loss to the Seahawks. With more preparation, we'll see if he can lead the offense for the rest of the season. As for Ben, questions now arise as to whether or not he'll be able to truly return, or if his career may be over.
Cam Newton: Injured, Declining, or Both?
The first 2 weeks of the season haven't been kind to Cam Newton. In week 1, he went a disastrous 25 for 51 as the Panthers fell to the Rams 27-30. In week 2, he did manage to bring the incompletions down as he went 25 for 38, but still fell yet again, this time to the Buccaneers, 14-20. In 2 games, he's somehow managed to rack up over 570 passing yards, but has yet to score a touchdown. He's already got 1 interception and 2 fumbles, but somehow, no touchdowns. It's such a bizarre situation, and even the numbers can't fully show just how much he's seemed to struggle so far. So what gives? On Tuesday, it became apparent as to why Newton isn't playing like himself. Ever since winning MVP in 2015, he seems to have been backsliding, and this rough start only continues the trend. To add to the frustration, in Thursday's loss to the Bucs, Cam appears to have re-aggravated his nagging foot injury, which may cause him to miss some time in the near future, although that's still up in the air as well. With the Panthers starting 0-2 and their once-MVP QB at far less than 100%, Carolina could be in deep trouble not only now, but potentially in the coming seasons as well.
Eli Manning: The Daniel Jones Era Has Arrived
Eli Manning's decline has been no secret for a couple years now. His days of taking down Brady and the Patriots in the Super Bowl have long since passed. However, Giants' coach Pat Shurmur still insisted on starting his veteran QB in the first 2 weeks of the season over rookie and 6th-round pick of last year's draft, Daniel Jones. Manning's numbers weren't exactly terrible, but with 2 interceptions and 1 touchdown in week 2's loss vs the Bills, Shurmur has officially given Jones the reins, and the man Giants' fans once booed is now being cheered on to turn New York's season, and franchise, around. Can Jones prove that the Giants made the right choice in taking him at #6 overall? We'll find out as the Daniel Jones era begins on Sunday vs the Buccaneers.