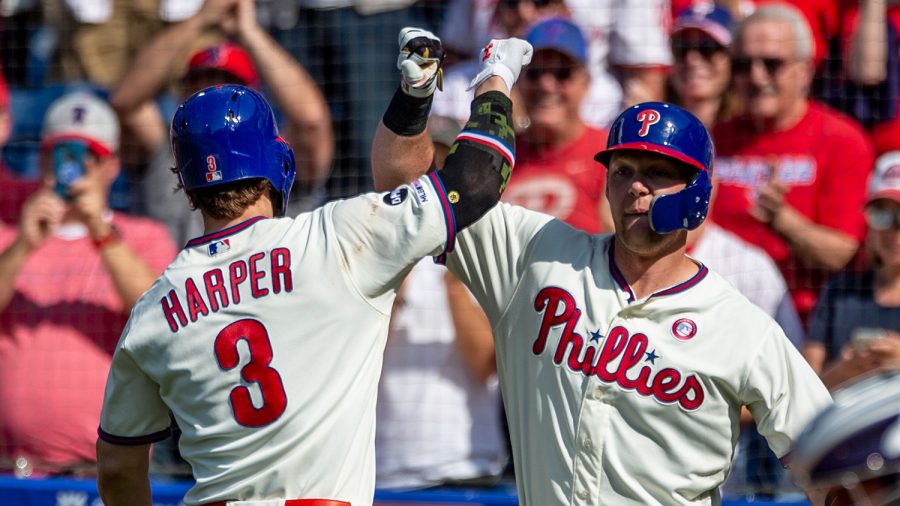 Break Out The Brooms: Phils Sweep Out The Rockies
The Phillies were coming off a brutal series loss to the Brewers on Friday as they looked to open a series vs the Rockies, a team that beat the Phillies badly in their last series too. It looked like the stretch of games for the Phillies could be killer, but the Phillies bounced back strong, sweeping the Rockies out of Citizens Bank Park.
In game 1, Andrew McCutchen powered the offense, while Cole Irvin continued his strong stretch in the MLB. Irvin wasn't especially dominant as he had been in his last 2 games, but he has been consistent in one key way: he gives the Phillies distance. Despite allowing 4 runs on 5 hits on Friday, he still gave the Phillies 6 strong innings, which has made managing the bullpen that much easier. He keeps the Phillies in games. Andrew McCutchen erased a 2-run deficit in the 3rd inning with a 2-run homer to left-center field. Bryce Harper really started to break out of his slump, driving in 2 on the night as well. The Phillies went on to win 5-4 in game 1.
The series was closely contested, and game 2 was the epitome of that, as the Phillies managed to get away with a 2-1 win. The win was huge, not only because of the close scoring, but because 2 recently struggling Phillies looked to be in prime form. Aaron Nola was fantastic in the win, as he allowed just the 1 run while striking out a career-high 12 batters. Hector Neris was spectacular in the win as well, adding to his strong 2019. He recorded 2 perfect innings and the save to close out the game 2 win. The offense was minimal, but Bryce Harper's 1st inning homer – a 466-foot moonshot onto Ashburn Alley. Another RBI from Rhys Hoskins got the Phillies to sneak by the Rockies, 2-1.
Game 3 was a bit of a contrast to the previous 2 games, as it became more of an offensive battle than a pitcher's duel. Phillies' Jerad Eickhoff wasn't especially solid, allowing 4 runs on 5 hits over 5 innings. However, the Phillies' offense bailed him out, as both JT Realmuto and Bryce Harper slammed 2-run homers each in the 6th inning. Andrew McCutchen drove in 2, and Harper finished the night with 3 RBI. The Phillies pinned down the sweep with a strong 7-5 win. They're 27-19, 1st in the NL East still, and they'll look forward to a tough series against the Cubs next.