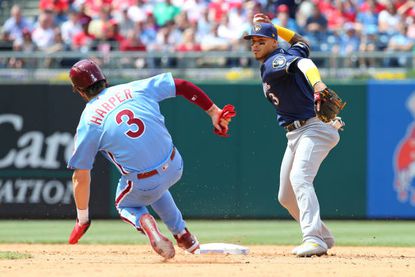 Phillies Badly Overpowered In Series Loss To Milwaukee
It definitely was a series to forget for the Phillies, who lost their 3rd series of the season with an 11-3 drubbing by the Milwaukee Brewers in game 4 on Thursday. The series was expected to be tightly-contested, between two top teams in the National League, but the Brewers flat out dominated the Phillies, with the exception of the Phillies' game 1 win.
The Phillies' looked like they could be legitimate competition for the Brewers in game 1 of the series, as they fought back to win it 7-4. The game is much more a testament to the Phillies' lineup than their pitching, as Aaron Nola struggled yet again, only lasting 3 innings, allowing 3 runs, 5 hits, 3 walks, and striking out 3. That being said, the Phillies a year ago probably would've lost this game. But the lineup battled back, eventually breaking it open for good late in the game. Cesar Hernandez helped the cause by going 2-3 with a 2-run homer in the 5th inning. The bullpen locked it down for 6 innings too to keep the Phillies in the game.
Game 1 was the last of the positive notes for the Phillies in the series, as they skidded to lose the remaining 3 games. After scoring 7 in the 1st game alone, the Phillies combined to score only 6 in the last 3 games combined. The Brewers outscored the Phillies 26-13 in the series, which was punctuated by an 11-3 laugher in the final game of the series.
The big problem for the Phillies now, coming off this brutal series with Milwaukee, is that they get no reprieve. The Phillies begin a series against the Rockies next, starting on Friday. The Rockies are responsible for the previous series loss the Phillies suffered. Then, the Phillies turn around and are forced to play the red-hot Chicago Cubs, followed immediately by yet another series against the Brewers.
The Phillies now sit at 24-19, and despite the skid, still remain on top of the NL East. However, their lead over the 2nd-place Braves has shrunk to just 1.5 games.