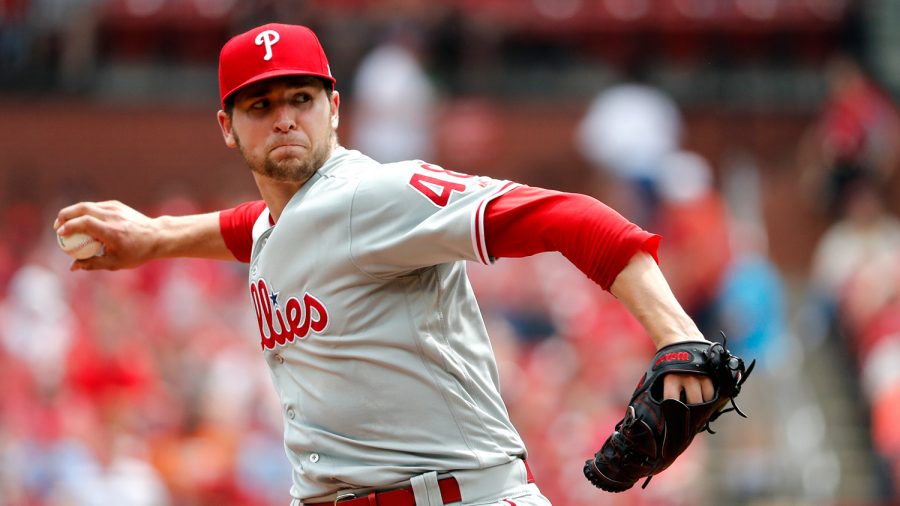 Phillies Get Another Big Series Win In Emotional Finale
On Wednesday, the Phillies learned that their beloved former President and chairman David Mongtomery had passed away that morning. With heavy hearts, the Phillies and Jerad Eickhoff took down the St. Louis Cardinals to finish off a series win vs the Cards.
Game 1 was little short of a letdown for the Phillies on Monday, as they were blanked 6-0. Both Bryce Harper and Rhys Hoskins went 0-4, and Vince Velasquez fell apart late in the start as he was tagged for 5 runs on 3 homers. What was worse, was that the Cardinals had lost 4 straight coming into the game. Letting the Cardinals regain any momentum could hurt.
As it turns out in game 2, that momentum was quickly regained by the Phils in explosive fashion, as the Phillies destroyed the Cardinals 11-1. Bryce Harper snapped out of his funk, going 2-3 with a grand-slam in the 2nd inning, which gave the Phillies an already comfortable 6-0 lead by the end of the 2nd. Rhys Hoskins had huge night, going 4-5 with 3 runs scored, along with a 9th inning, solo-homer to cap off the night. Aaron Nola finally seemed to click back to his 2018 form, dealing through 6 strong innings while allowing only 1 run on 3 hits, stirking out 7 in the process.
Game 3 ran high with emotions on all levels, beginning with the pregame moment of silence for Phillies' David Montgomery's passing earlier that morning. The Phillies were anything but silent after that, starting with Jerad Eickhoff, who added another gem to his already impressive comeback campaign. He threw a spectacular 8 inning shutout, allowing only 3 hits while striking out 4. Cesar Hernandez let everyone know he was done with his previous slump, exploding for a 3-5 day, smacking a homer and driving in 3 RBI on the day. The Phillies walked away with the 5-0 win, a strong and emotional finale to the series in St. Louis.
The Phillies remain in command of the NL East at 21-15, they'll have Thursday off before beginning a 3-game series in Kansas City on Friday.