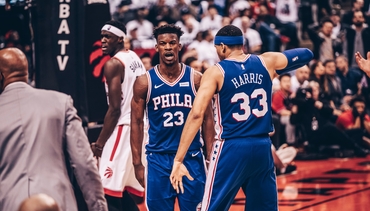 Butler Keeps His Promise; Lifts Sixers To Game 2 Win
Following a frustrating game 1 performance, the Sixers getting a win in game 2 would be crucial to having any chance to win the series. Falling behind 2-0 to the Toronto Raptors would be little short of fatal to their playoff hopes. After the game 1 loss, Jimmy Butler promised to bounce back in game 2, and he did just that.
The Sixers surprised the Raptors, and probably most NBA fans, by dominating the 1st quarter, 25-17. They outscored Toronto in the 2nd quarter as well, leading by a comfortable margin of 51-38 going into halftime. As we all know, however, the 2nd half play of the Sixers often puts such halftime leads in jeopardy, and this game was no different. However, despite being outscored by Toronto in both 2nd half quarters, the Sixers never allowed Toronto to run away with anything, giving the Sixers a chance to counter most Toronto buckets.
The final 2 minutes were a nail-biting, back and forth battle. Thanks to clutch buckets from Butler and Embiid, along with a huge rebound by Tobias Harris, the Sixers managed to hold off the Raptors 94-89, tying the series 1-1.
Butler, after making his promise to bounce back, followed through with authority, posting a 30 point, 11 rebound, and 5 assist night. He didn't limit his production to just the 4th quarter, although he did come up with clutch plays as the finals minutes progressed.
Joel Embiid was battling a stomach flu going into the game, and his statline showed it, as he only managed 12 points, albeit several of those points were crucial, especially his late game layup to practically seal the win, as well as an assist on Butler's big 3-pointer late in the game. Luckily for the Sixers, Butler was able to take the pressure off Embiid with his strong performance.
The series will now move to Philadelphia as the Sixers look to take a series lead on home court.