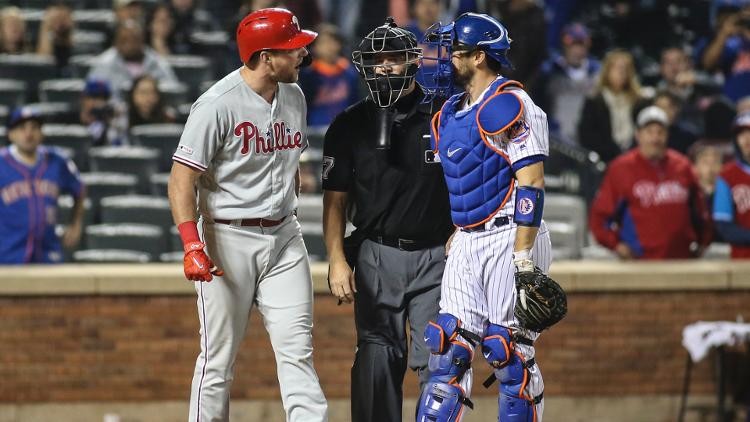 Phillies And Mets Rivalry Is Back With Hoskins' Last Laugh
It wasn't a pretty series at all for the Phillies, who were outscored 14-7 over the 3 games, losing the series 2-1 to the rival New York Mets. However, in an intensely emotional series, the Phillies and Rhys Hoskins got the last laugh in the series finale, beating the Mets 6-0 to remain in 1st place in the NL East.
The first 2 games of the series were an absolute disaster for the Phillies, reminding many of the late-season collapse of last year. The hitting just wasn't there, pitching wasn't effective enough to give the Phillies a chance, and the sloppy defense nailed the Phillies' coffin, as the Phillies were outscored 14-1 in games 1 and 2 combined. The most notable event of the series, up to that point, occurred late in game 2. With Rhys Hoskins at bat, and the Phillies down a miserable 9-0, Mets' pitcher Jacob Rhame threw a fastball that just missed nailing Hoskins in the head. The Phillies obviously took exception to the gesture, and Hoskins wouldn't forget it going into game 3.
With the Phillies already leading 4-0 in the top of the 9th inning, the Mets once again sent Jacob Rhame to the mound, and the stars aligned that Hoskins would get the chance to face him again, 24 hours after the head-hunting fastball in game 2. This time, Hoskins was taking no prisoners, as he launched a pitch by Rhame 342 feet, over the left field wall for a 2-run homer, putting the Phillies up 6-0. Hoskins enjoyed his revenge too taking a leisurely 34 second jog around the bases – the longest home run trot in the MLB this year. You can bet that Hoskins and every Phillie player and fan enjoyed every second of it.
Although the Phillies have lost their last 2 series against the Rockies and Mets, the Phillies now come back to Philly to kick off a homestand with a 4-game series against the 5-15 Miami Marlins, with 1st place still in their possession. They'll look to build on that lead starting Thursday night.