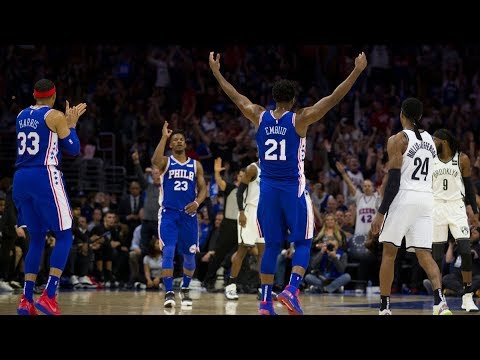 Sixers Send Jared Dudley And Nets Packing In Blowout Game 5 Win
Jared Dudley talked all that trash, but the Sixers were more about action, convincingly destroying the Brooklyn Nets 122-100 in game 5, sending the Nets home while the Sixers move on to round 2 vs the Toronto Raptors.
The Sixers dominated the Nets right out of the gate, and never looked back, as they were bent on ending the series at home rather than traveling back to Brooklyn for a game 6. In the 1st quarter, the Sixers stifled the Nets 32-15, and by halftime, had a sizable 60-31 lead. Although Brooklyn had a much better 2nd half, even outscoring Philly in the 4th quarter, the hole they found themselves in after the 1st half was insurmountable.
Joel Embiid led the Sixers in scoring with a 23 point, 13 rebound double-double. Ben Simmons had a solid night, although nothing flashy, with a 13/5/6 line. Far from the "average" that Dudley claimed he was. So far, Simmons is averaging 17.2 points per game, 6.8 rebounds per game, and 7.6 assists per game in this year's playoffs. And that's including the frustrating game 1 performance.
The Sixers will now look forward to a big matchup with the #2 seed Toronto Raptors in the semi-finals, a team that eliminated the Orlando Magic 4-1 as well, just minutes before the Sixers eliminated the Nets. The Raptors won the season series against the Sixers 3-1, with the 1 Sixers win coming in Kawhi Leonard's absence. However, the Sixers had not yet acquired Tobias Harris, Boban Marjanovic, and Mike Scott by the time Toronto and Philly last met. If Embiid can stay healthy, there's reason to believe the Sixers can hold their own against the Raptors.