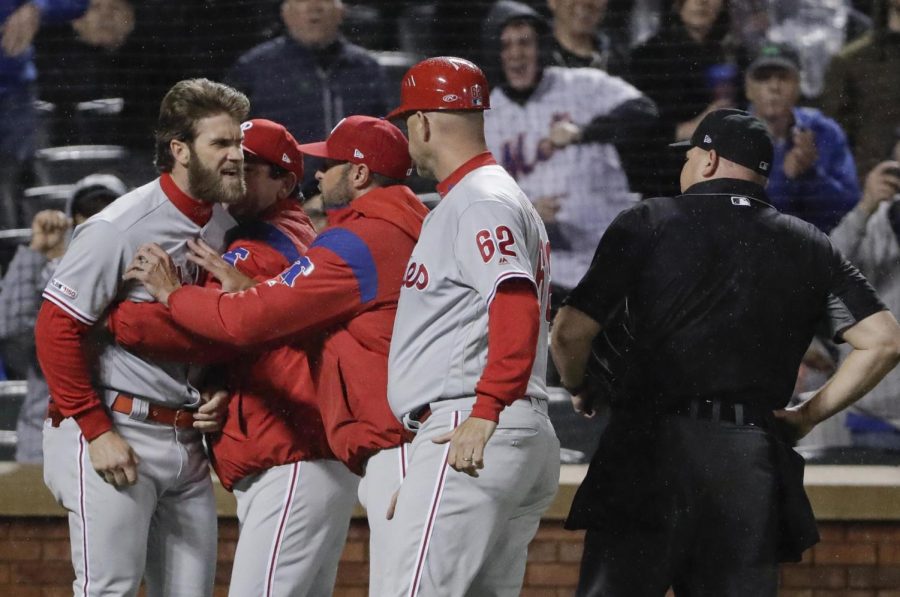 Phillies' Tensions Rising As Injuries And Losses Pile Up
Despite remaining tied with the Mets for 1st in the NL East, the latest stretch of play hasn't been pretty for the Phillies. Since starting their brutal stretch of consecutive games on April 12th, the Phillies have gone 5-6, and have seen 6 injuries, have gone into extra innings 3 times, have demoted 1 player, and have had 1 player get ejected. What started out as a consistent team has suddenly found itself in a bit of a rut.
In a not-so surprising move, Nick Pivetta found himself packing his bags as he was demoted to the AAA Lehigh Valley Iron Pigs, and Jerad Eickhoff took his place in the rotation. It isn't surprising, as Eickhoff looked good in his relief appearance the night before the move, while Pivetta's ERA has skyrocketed to a over 8.
The injury list is extensive, as Jean Segura, Odubel Herrera, and Scott Kingery all went down with hamstring strains. David Robertson and Victor Arano went to the injured list with sore elbows. Andrew McCutchen came up limping after hurting his knee in Colorado, but has remained in the lineup. Hopefully none of the injuries are serious beyond the 10-day IL stints. But it goes to show the wear on the team already in this brutal stretch.
The wear isn't just physical either, as the Phillies have shown in their play and their emotions. The Phillies looked flat in losing 3 of 4 to Colorado in the last series, and they remained flat in their game 1 loss to the Mets, 5-1, on Monday night. Frustration is clearly brewing, and it boiled over with the ejection of Bryce Harper on Monday. The heated exchange between Harper, Gabe Kapler, and the home plate umpire was arguably the most emotion we've seen on the Phillies in a long time. It's the first Phillies' ejection since June 16th, 2016.
Jake Arrieta, the starter for the Phillies in the loss to the Mets, had some harsh words for his teammates, saying they "I don't think our guys were ready to play," and "I need my guys behind me and they weren't." It sounds brutal, and it is, but it's the wake-up call this team needs. They've looked sluggish as of late, and Arrieta sees himself as responsible for fixing that, as the "adult" of the team.