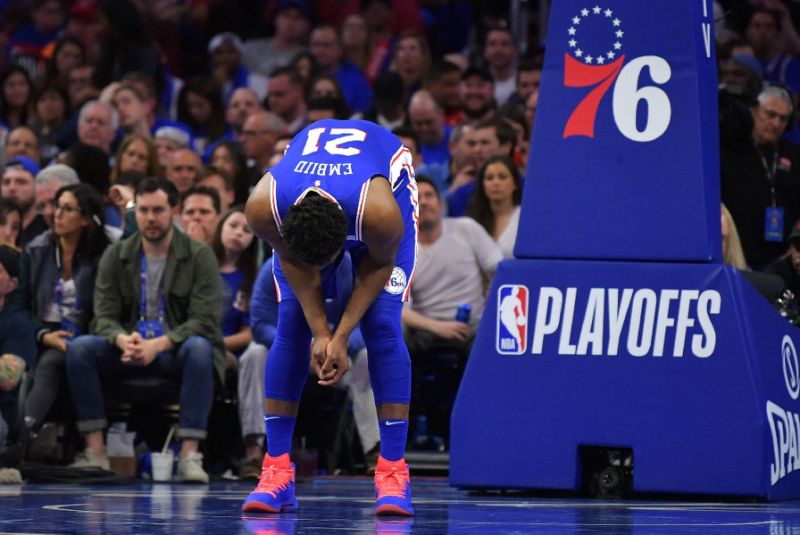 Sixers Deliver Embarrassing Game 1 Performance
It's exactly what a lot of us feared would happen, but hoped wouldn't: the Sixers under-performed painfully in game 1 of the playoffs, losing 111-102 to the Brooklyn Nets.
Ever since the matchup between Philadelphia and Brooklyn was finalized, there's been a sense of uneasiness in Philadelphia. The Nets have seemingly always had an answer when they played the Sixers in the regular season. And to add to the nerves, Brett Brown even said it himself that he was concerned about the matchup, saying that the Sixers "don't match up well" with the Nets. Great. For a team with arguably the 2nd best starting 5 in the league, on paper anyways, there's very little confidence in them. Why? Because the starting 5 only got to play 10 games together in the regular season, going 8-2 in those games. They're a talented roster, no question, but they're not a team. At least they aren't playing like it.
Brooklyn dominated Philly most of the game, scoring 31 points in the 1st 3 quarters each. The only time the Sixers outscored Brooklyn was by 1 in the 2nd, and by 2 in the 4th. Even in quarters they won, they still got dominated.
The major key, besides defense, was the Sixers' pitiful shooting woes. Philly went a miserable 3/25 (12%) from 3-point range, compared to Brooklyn's 11/26 (42%).
Jimmy Butler and Joel Embiid were the only two Sixers to bother to show up on Saturday. Butler showed out, dropping a career playoff-high of 36 points, accompanied by 9 assists. Joel Embiid, despite being less than 100% by a decent margin, scored 22 points to go with 15 rebounds and 4 assists. The rest of the starting 5 only scored a combined 18 points, 15 rebounds, and 9 assists between Harris (4 pts), Redick (5 pts), and Simmons (9 pts).
The Philly crowd let them hear it too, heartily booing their team off the court. And nobody can blame them, the performance was pathetic.
The Sixers look to tie the series on Monday night, with Embiid listed as questionable, which is an improvement over his status of doubtful before game 1.