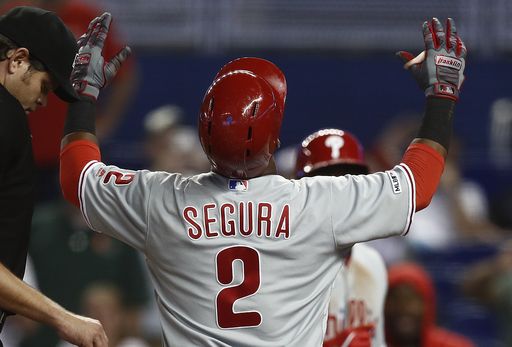 Phillies Pick Up Series Win In Miami
If we're going to be honest, this probably should've been a sweep for the Phillies, but the goal remains the same as last year: win every series. And the Phillies did that, taking the series 2-1 from the Marlins over the weekend.
Game 1 was all Phillies on Friday night, as the Phils cruised to a 9-1 win behind a strong start from Arrieta, timely hitting, and a 3-run homer from McCutchen to put the exclamation mark on the win. Arrieta went 7 innings, allowing only the 1 run on 5 hits, and the bullpen shut the door.
Game 2 was a much different story, as the Marlins flipped the script on the Phillies, crushing them 10-3. It was a surprising turn of events, especially since it came against Zach Eflin, who had been cruising to start the season. He only lasted 4 innings, getting smoked for 10 hits and 6 runs in the process. He gave up 3 homers in the 3rd inning alone. The Phillies only managed 3 runs, all coming in the 9th inning.
Game 3 would be as frustrating as it was enjoyable for several reasons. For one, Vince Velasquez had a fantastic start, only allowing 1 run on 2 hits over 6 innings. However, the Phillies' offense couldn't do anything to back him up, with their only run, at the time, coming on a solo-homer by Cesar Hernandez. By the 9th inning, the game remained tied at 1. The tie would continue to drag on until Jean Segura finally broke the deadlock, lifting a 2-run homer to left, giving the Phillies a 3-1, 14 inning victory and the series win. The bullpen was spectacular in a combined 8 inning effort in relief of Velasquez, especially Victor Arano, who struck out all 6 batters he faced in 2 innings of work.
After the series in South Florida, the Phillies return home to South Philly to host the New York Mets, who are tied with Atlanta for 2nd place, both a half a game back behind the Phillies in the NL East. A series win here is crucial.