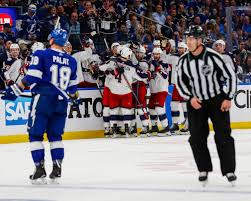 Lightning Lose 4-3 in Game One After Blowing 3 Goal Lead
The Tampa Bay Lightning lost to the Columbus Blue Jackets 4 – 3 after blowing a 3 – 0 lead throughout the game.
The Lightning jumped out to a 3-0 lead in the first period, and the team that tied the record for most regular-season wins ever (62) looked like it was going to roll through the playoffs.
A sloppy pass from Ryan McDonagh resulted in a Nick Foligno goal in the second period that ignited the Blue Jackets' physical and forechecking games. Defenseman David Savard undressed Victor Hedman on a goal in the third.
Less than four minutes after that, Josh Anderson scored a shorthanded goal to tie the game, and Seth Jones's power-play goal at 14:05 of the third gave them the lead.
The Lightning are the 10th team in the history of the Stanley Cup Playoffs to blow a three-goal lead in their first game of a postseason.
Only two of the previous nine recovered to win the series.