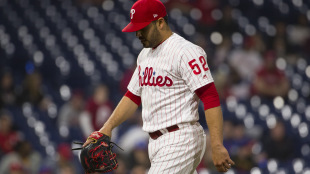 Phillies' Blow 6-1 Lead In Loss To Washington
The Phillies last night brought us all back to the glory days of last year, blowing leads and failing to simply put their foot down when given a solid lead over an opponent. On Tuesday night, they jumped out to a 6-1 lead by the 4th inning, while Aaron Nola was cruising. However, the Nationals' clawed their way back, and the Phillies couldn't counter, allowing 9 unanswered runs.
The Nationals struck 1st, with a sacrifice fly in the 1st inning by Anthony Rendon. In the 3rd inning, the Phillies' bats came to life, as both Maikel Franco and Bryce Harper hit home runs, Harper's being a 3-run shot. In the 4th inning, Jean Segura drove in 2 more with a triple, extending the Phillies' lead to 6-1. Unfortunately, that would be the end of the Phillies scoring, and it wouldn't be enough.
In the 6th inning, Anthony Rendon drove in another run with an RBI double to make it 6-2. In the 7th inning, the Nationals really began to gain momentum, as Yan Gomes and Howie Kendrick both homered in the inning, driving Nola from the game and making it a 6-5 affair. The Phillies held the lead going into the 9th, as Edubray Ramos mowed down the 1st 2 batters of the inning. With 1 out to get, Ramos worked Victor Robles into a 2-2 count, 1 strike away from the win. But on the 2-2 pitch, Robles drove a liner over the left field wall, tying the game at 6. Despite threatening in the bottom of the 9th, the Phillies couldn't get a run across, and the game went into extra innings.
In the 10th inning, the wheels officially fell off for the Phillies. After the first 2 batters of the inning reached for the Nationals against Jose Alvarez, Nats' Juan Soto crushed a ball so high and far that it cleared the top of the right field foul pole. After replay review, the call was confirmed to be a 3-run homer, putting the Nats up 9-6. They would follow up with another run, stunning the Phillies 10-6.
I knew it was going to come down to pitching this season, and it's showing right now. The talk coming into this series was how bad the Nationals' bullpen has been, but the Phillies' pen gave up 5 last night, while the Nationals's gave up none. Granted, 4 of those were on Alvarez's line. Tough one to watch, they'll go for the series win on Wednesday.