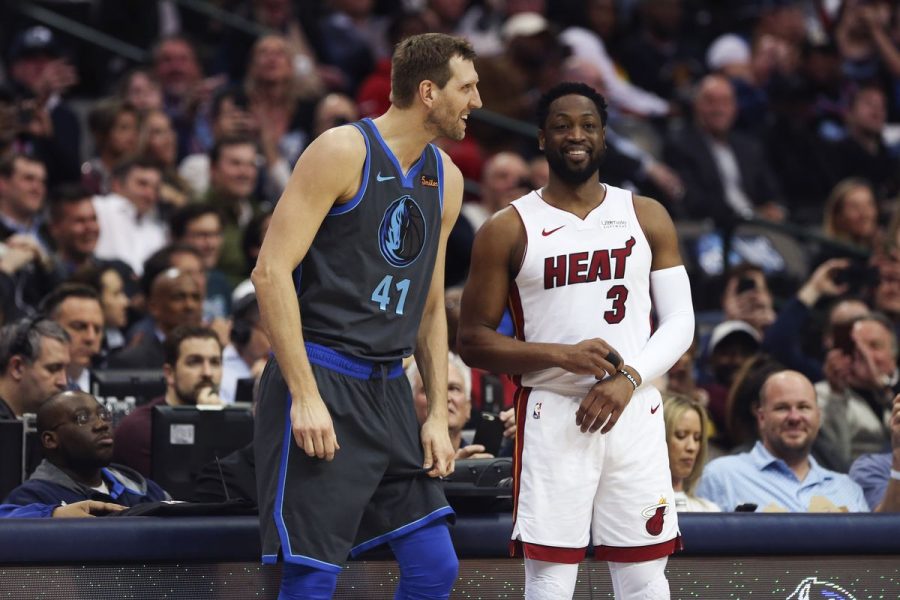 Dirk & D-Wade Kiss Their NBA Homes Goodbye
Both Dirk Nowitzki and Dwayne Wade have played their final home game in their beloved NBA towns of Dallas and Miami.
The Maverick legend Nowitzki racked up a season-high 30 points his his undoubtedly last regular season game in his career.
The 21 year tenure in one city defines how loyal Dirk really was to the Mavericks and the entire organization and city. He has totaled over 30,000 points, 3500 assists, 10,000 rebounds, and 1000 steals.
Dirk will forever be solidified in Maverick history as he retires at the age of 40.
As for "The Flash," Dwayne Wade, he got a warm welcoming to his final home game as his featured video included his son, Zaire Wade, introducing Wade for his final dance in Miami.
The Heat started the game with a Wade dunk, how else could this game start?
Wade also dropped 30 in his last home game, blowing out the Sixers, 122 – 93. Wade has totaled over 23,000 points, 5,500 assists, and well over 1000 steals in his NBA career going down as the Miami Heats leading scorer.
The two legends will leave the game with no doubt in their minds they will be inducted into the NBA Hall of Fame when eligible.