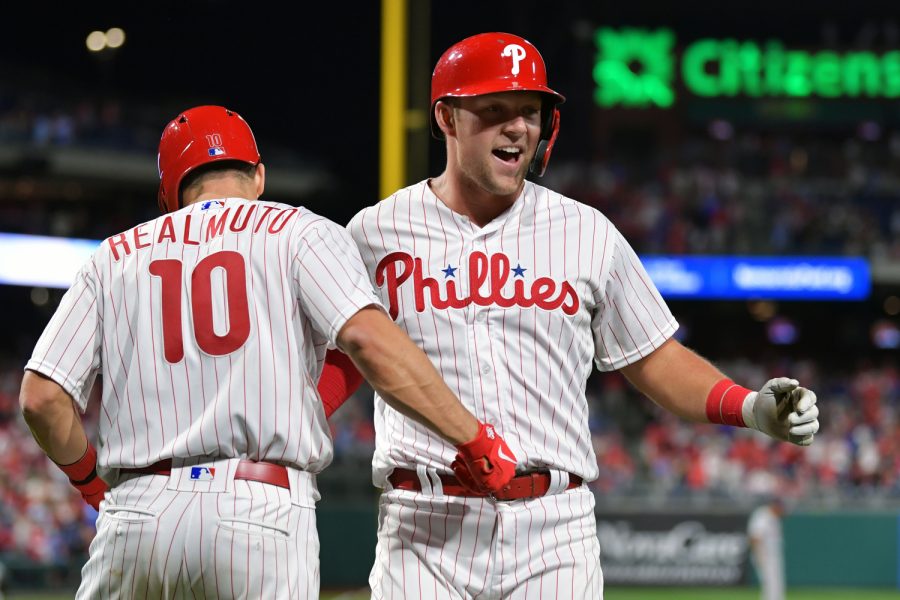 Hoskins' Homers Twice In Phillies 4-3 Win
The Phillies got the series with the Nationals started off on the right foot on Monday night, as Rhys Hoskins and Odubel Herrera powered the Phillies' offense to a 4-3 victory.
Last night marked the first start of the season for Vince Velasquez, as he occupies the #5 spot in the starting rotation. His numbers don't look impressive on paper, but he looked strong in his 2019 starting debut. He allowed 2 runs on 4 hits, with both runs coming on a 2-run homer to Kurt Suzuki. Besides the home run, he looked solid, as he didn't allow a walk while striking out 2 in 5 innings pitched. The bullpen was solid behind him as well, as Seranthony Dominguez, Adam Morgan, and David Robertson combined for 3 innings, allowing only 1 hit combined and striking out 3. Pat Neshek ran into some trouble in the 9th, allowing a solo-homer to Brian Dozier to make it a 1 run game, but he managed to escape and earn the save.
Odubel Herrera came up big with his 1st homer of the season, erasing the Phillies' 2-0 deficit in the 4th inning with a 2-run blast. Rhys Hoskins had an even bigger night, launching a solo homer in the 6th inning, and then another in the 8th. Both were obviously crucial as the Phillies won by 1. It's Hoskins' 4th multi-home run game of his career, and his 1st of the season. He now has 5 homers through 9 games this season.
The Phillies improve to 7-2 with the win, and look to clinch the series win on Tuesday night. They'll send Aaron Nola to the mound, in hopes of a bounce-back win, vs the Nationals' Stephen Strasburg.