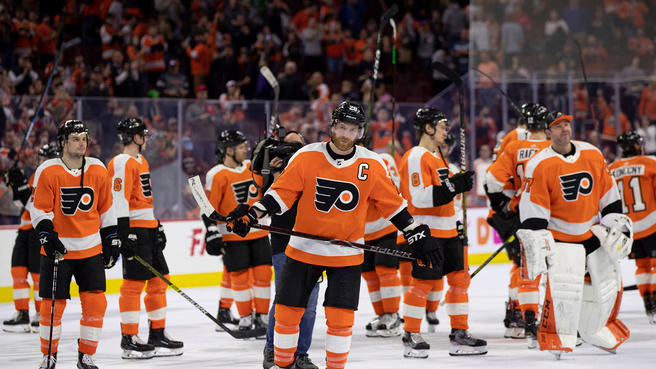 Flyers' Season Finally Comes To A Disappointing End
What was arguably one of the most disappointing and frustrating Flyers' seasons in recent history, has finally come to a close. The season ended in a fashion that perfectly and painfully represented the season as a whole, as the Flyers skidded for a 5-game losing streak in the final 5 games of the season. As a result, they finish the year with a 37-37-8 record, not nearly enough for a playoff berth.
The season left no doubt that the Flyers need to make changes in the offseason. What this may entail, is yet to be seen. Whether or not Scott Gordon is the right guy to coach this team back to the playoffs, still remains to be seen. We'll see how much faith the organization has in him as to whether or not they search for a permanent coach in place of Gordon.
The season gave us an opportunity to see what Carter Hart can do, and he proved he can be a building block moving forward. Giroux is a given, as are Couturier and van Riemsdyk. The young guys besides Hart showed out too, as Patrick, Provorov, and Lindblom all were especially promising. They are shaping up to be big parts of the future.
Of course, having all of these guys next season isn't guaranteed, as the front office certainly has to consider the possibility of blowing the entire team up and starting from scratch. What "scratch" means, there's no way to know. Hart seems to be the safest, I'd imagine the veteran pieces are the most likely to be wearing new uniforms next season. Knowing the Flyers, however, I can't say I expect much to be done in the way of a rebuild. They'll just add some random pieces and hope it miraculously all fits together. Unless Chuck Fletcher has the guts to change that culture. There's a reason we haven't won a Stanley Cup since 1975 and haven't even been to the finals since 2010. Something has to change, and it might as well now. It's going to be a long summer.