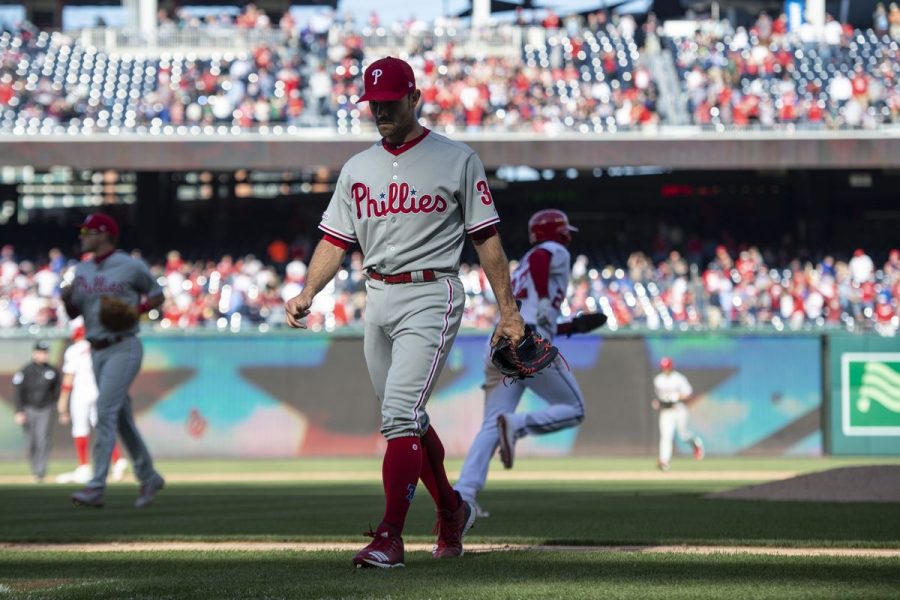 Phillies Lose Undefeated Title In Humbling Fashion
The hottest and arguably most improved team in baseball, so far, looked an awful lot like the Phillies team that collapsed in 2018 on Wednesday afternoon, as the Phillies undefeated stretch came to an end in a humbling 9-8 loss to the Washington Nationals.
Things got off to an uncharacteristically rocky start for the Phillies, as ace Aaron Nola just couldn't get into a groove. It may have been the worst start of his career, as he allowed 6 runs on 5 hits through only 3 innings.
Impressively, the Phillies managed to dig out of the deficit Nola put them in, coming all the way back to take an 8-6 lead with a 3-RBI double from McCutchen in the 8th inning. Harper played a big role as well, impressively reaching base in every single plate appearance. However, the bullpen couldn't hang on, as the Nationals tied the game at 8 in the bottom of the 8th, and David Robertson issued a bases-loaded walk, to give the Nationals a literal walk-off, 9-8 victory, snapping the Phillies perfect season.
The negatives of the game are all over the place – Nola got lit up, the Phillies committed error after error despite going error-less through the 1st 4 games, and Robertson is really struggling to start the season. But one major positive that the loss demonstrated is that this team is never out of a game. Despite Nola getting tagged for 6 runs, the lineup managed to successfully fight back to score 8 runs, which is huge. Starters giving up 6 runs is going to be a rare occurrence, and the fact that the lineup could still back it up is an impressive and comforting fact. However, the pen is going to have to be able to back up their lineup and hold those leads, which it failed to do on Wednesday. If the pitching continues to improve, this team really can be an unstoppable force.
The Phillies have a day off to travel back home before hosting the Minnesota Twins for a series starting on Friday night.