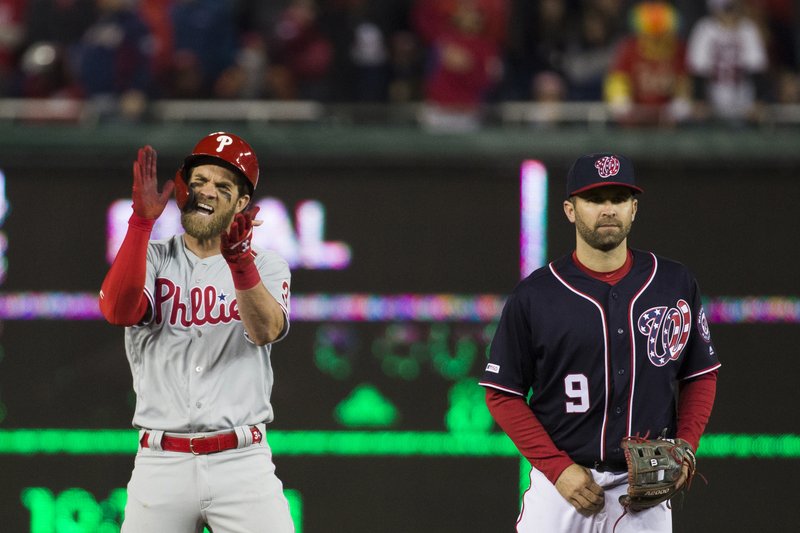 Phillies Make History In Harper's Return To DC
For the 1st time since 1915, the Phillies have started their season with a perfect 4-0 record. And they did so in dramatic fashion on Tuesday night crushing, the Nationals 8-2 in Bryce Harper's first game back in Washington as a Phillie.
The game started as a pitcher's duel between Max Scherzer and Zach Eflin, the only blemishes belonging to Scherzer, a solo home run allowed to Maikel Franco, and a passed ball, allowing Odubel Herrera to score. Zach Eflin, on the other hand, out-performed Washington's ace, striking out 9, while allowing only 3 hits and shutting out the Nationals over 5 innings. It's a great sign for the Phillies, as the starting rotation beyond Nola and Arrieta remained the only question mark for the team heading into the season.
The Phillies offense struggled to get much started off of Scherzer, but still managed to score twice and work Scherzer's pitch count up,  chasing him from the game after 5 innings. Once the Phillies got to the Nationals' bullpen, the fireworks lit right up again. With the bases loaded in the 6th inning, Jean Segura ripped a double down the right field line, scoring 3 to make it 5-0. Bryce Harper followed up with an RBI double to make it 6-0, but Harper was far from done. In the 8th inning, with Segura on base, Harper unloaded a momentous blast, traveling 458 feet into the 2nd deck in right field. To add insult to injury, the bat flip that accompanied the moonshot was almost as impressive as the homer itself. As soon as the bat was flipped, a new rivalry was born. And we're just getting started.
With the exception of a 2-run home run by Anthony Rendon, the Phillies' bullpen locked it down again in relief of Eflin, giving the Phillies further confidence in what was still somewhat questionable at the beginning of the season.
The insane production of the lineup, along with the consistency of starting pitching and bullpen pitching, is an absolutely lethal team. The pressure on every hitter is minimal, everyone knows that if they can't get it done, the next guy can. The starting pitchers know they have a strong bullpen and lethal lineup to back them up, and the lineup has provided strong leads for the bullpen to work with. A team that can relax and play good baseball is a dangerous team. And that's exactly what the Phillies have constructed.