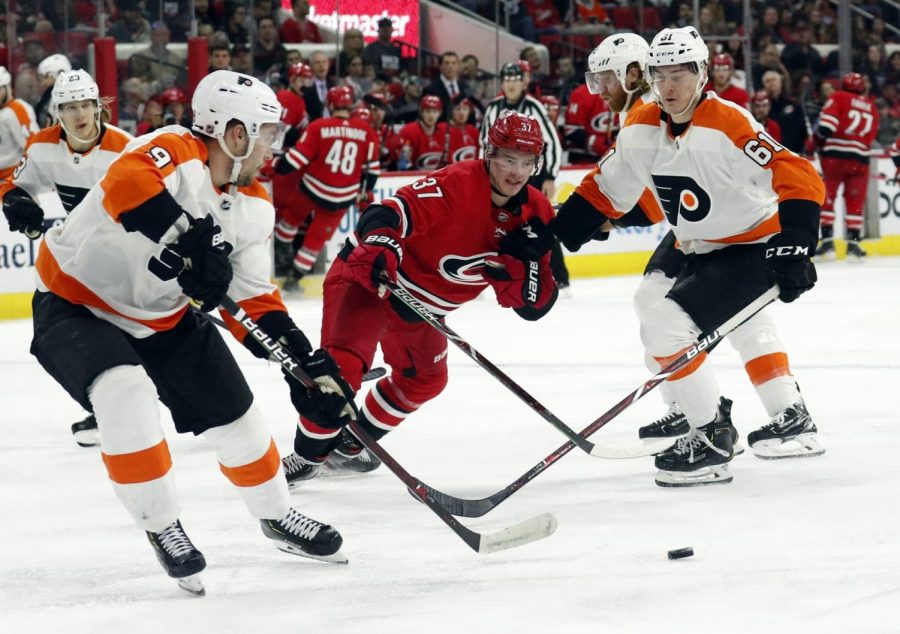 Flyers' Playoff Hopes Dashed By Carolina
It was a far-fetched joke, then a legitimate chance, and soon right back to a heartbreaking realization that the season will in fact be over next Saturday. The Flyers' late run of dominance has sputtered just short of the finish line, as the once-unbelievable playoff odds fall just out of their reach.
Last Wednesday, with a shootout win over Toronto, the Flyers managed to keep their playoff dreams alive for another day, but the odds were still long. They would've had to win out from there, as any game resulting in less than 2 points, spelled automatic elimination. And that's not even factoring in how results of other teams' would've affected them. With 3 days in between games, the Flyers hoped to keep their playoff dream going with a game on Saturday in Carolina.
The game started fairly evenly matched, with Carolina holding a 2-1 lead over Philly by the end of the 1st period. The 2nd period was a defensive stalemate, as the score remained 2-1 after the 2nd period of action. However, Carolina scored first in the 3rd period, making it 3-1 Hurricanes. Flyers' Oskar Lindblom countered, but it wasn't going to be enough, as Carolina followed that with 2 more, effectively crushing the Flyers' playoff hopes into dust, for good.
The Flyers played again on Sunday, this time with nothing to play for. And it showed, as they looked just absolutely miserable, getting shut out by the Rangers, despite the fact that they were on the cusp of sweeping the season series against New York. It just hurts to watch, and unfortunately, we have very little reason to believe the remaining 3 games of the season will show any more spark than this. Fun last couple of months, but we'll see you all next September.