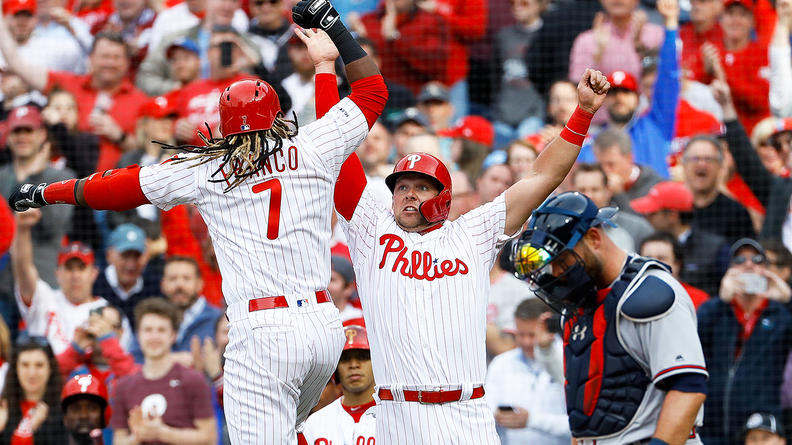 New-Look Phillies Live Up To The Hype
The hype leading up to Opening Day on Thursday was the most we've seen in Philly since probably 2011, and it was incredible. To be hyped up is one thing, to back it up is another. And the Phillies backed it all up with a huge 10-4 win over the defending NL East Champion Atlanta Braves.
Andrew McCutchen got things started with a bang for the Phils, launching a solo-home run in his first at-bat with the team, putting the Phillies up 1-0. The Braves countered with a run of their own in the 2nd inning, tying the game at 1. It would stay that way until Odubel Herrera and Cesar Hernandez hit back-to-back RBI singles in the 4th inning, giving Philly the 3-1 lead. 2 innings later, Maikel Franco got the big hit, as he crushed a 3-run homer to left, giving the Phillies the 6-1 lead. The Braves countered with a 2-run homer to make it 6-3, but the Phillies weren't done yet.
In the bottom of the 7th, the Braves found themselves in a jam. McCutchen and Segura, the first 2 batters of the inning, got on base. Then the Braves made a bold decision: intentionally walk Bryce Harper to face Rhys Hoskins with the bases loaded and nobody out. And Rhys made the Braves pay, absolutely crushing his 1st career grand slam into the left field seats, giving the Phillies the 10-3 lead, and the eventual 10-4 win.
Aaron Nola had an odd outing for him, as he walked a career-high 5 batters, but still managed to strike out 8 over 6 innings, while holding Atlanta to only 1 run. His 2-seamer looked especially sharp, but it took him a couple innings to find his command consistently. The fact that he pitched so well despite being below 100%, is encouraging for his 2019 season ahead.