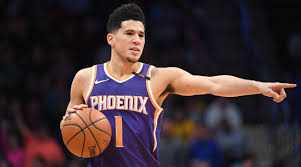 #FreeDevinBooker
Phoenix Suns guard Devin Booker recorded another 50 point game in another loss Wednesday night to the Washington Wizards, 124 – 121.
Booker entered the Wednesday night matchup with a 59 point game in the previous game.
Another loss.
You hate to see it, but several players have changed teams and even requested trades, and I am wondering if that's Booker's only route to success.
Booker was drafted back in 2015 and has became a star in the league. The Suns are sitting at 17 – 59 and are playing for pride these days. They had the number one pick in the 2018 draft and they still haven't made any obvious signs of improvement.
Booker may only be 22, but his talent can't be wasted. The Suns need to rebuild quickly, and efficiently if they want any ideas about resigning Booker to a max contract.