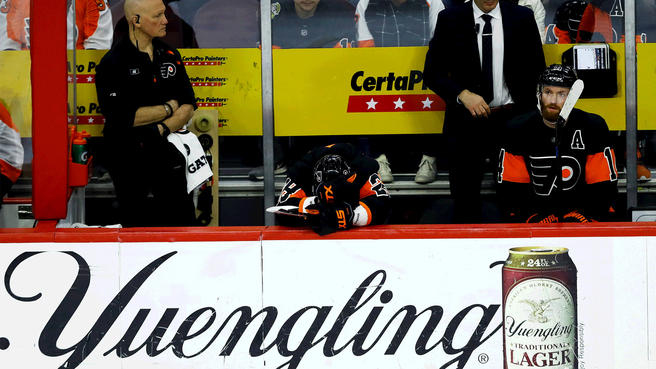 Flyers' Playoff Chances All But Gone
Well, this looks like the end of an unprecedented race. But it's not like we're not used to this kind of dull heartbreak. With the season on the line the last 2 games, the Flyers finally ran out of late-season magic, collapsing and burning in back to back pathetic losses to the Islanders and Capitals. The Flyers had dominated the Islanders this season too, and it just goes to show the Flyers have run out of gas, as their playoff hopes go up in flames.
On Saturday, the Flyers took on the Islanders, and had to like their chances, as they've owned the season series up until this point. It was especially heartbreaking, as the Flyers tied the game at 2-2 in the 3rd period, but watched the game slip through their fingers, falling 4-2. On Sunday, the Flyers had to try to rebound to keep any slim playoff chance alive against the Capitals, who have seemingly had Philly's number all season. And that trend didn't change, as the Capitals would sweep the season series against the Flyers. Philly just couldn't get anything going, as they lost a miserable game 3-1, effectively dropping their playoff chances to a percentage smaller than 1.
It was a roller-coaster season, but a season characteristic of the Flyers – extremely inconsistent. The first half of the season defeated all our hope early on, but the 2nd half made us care again. And in sparking new hope, set us up for the drop now, falling just short of an achievement we didn't think would even be remotely possible.
But through the season, we did see some promising features. The emergence of Carter Hart may be the biggest highlight, along with strong development of guys like Nolan Patrick, Ivan Provorov, and Oskar Lindblom. It will be interesting to see how the front office approaches the off-season in several aspects: the draft, trades involving veterans, Scott Gordon's job security, and several other points.