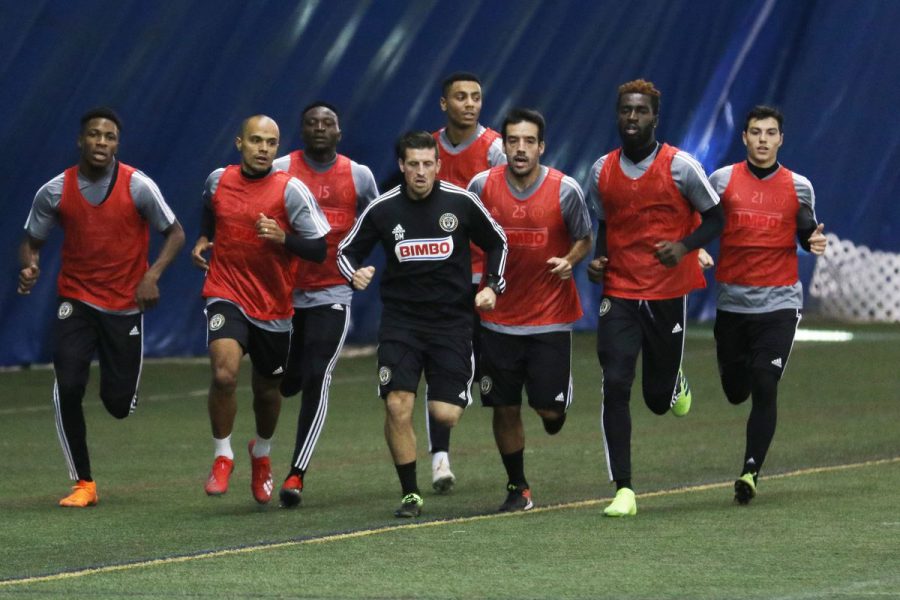 10 Reasons to Actually Care About the Philadelphia Union this Season
Last year, the Philadelphia Union made a cup final and playoffs again. This should be good news, right? Not for this organization. This was the third cup final in four years of no success for the Union, along with not managing a home playoff game after a disappointing loss to NYCFC. Fans are starting to lose faith in this organization ever having any success. Another season starts this Saturday, March 2, and here is why fans should still have hope.
Squad depth like never before
With the change of formation meaning no more wingers, the Union arguably have one of the deepest and strongest squads in MLS. For almost every position, the Union have someone who can play back up. These aren't just some random players, either. They are people like David Accam, who two years ago was one of MLS' best strikers, and in midfield, Anthony Fontana, who looked bright and promising all preseason. Raymond Gaddis is an experienced defender, too. This squad has major potential.
Money actually being spent
This year saw the Union spend the most they've ever spent on a player in Marco Fabian. Other much needed investments were made with the acquisitions of Kai Wagner and Sergio Santos. The Union have struggled to lock down a player of Marco Fabian's stature for a long time, and with this investment, it looks like they finally got their man.
Young guns have some experience now
Last season saw the Union start 2-3 teenagers almost every week, with more coming off the bench to provide an impact. Last season was a learning experience with these guys. MLS is something they weren't used to, and needed adjusting. Now, they have a whole season behind them, and this season, expect them to turn up big.  
Away Form Improving
Last season saw the Union take a record number of points away from games on the road. This has been something not only the Union, but teams across MLS, have struggled with. But last season the Union seemed to find a way to win on the road. With a better squad this season, the number of points they get should go way up too.  
Ernest Tanner
As a new guy in town from Europe, where he has 24 years of experience with three clubs, new Sporting Director Ernest Tanner has already put his spin on this team. His record for success with building teams should have Union fans optimistic that a title is surely on the way. Along with his open honesty with what goes on with the club, he fits in perfectly in with the Philly way.
Change in system
The Union have played the same 4-2-3-1 formation for as long as anyone can remember, and now its changing for the better. With the new 4-2-2-2 formation, this allows the union to attack using their strengths. With two strikers, that means more of a threat in front of goal, something the Union lacked at times in the 2018 season.
Marco Fabian
The Philadelphia Union acquired midfielder Marco Fabian this season with the most money the club has ever spent on a player. Fabian is Mexican International who has played in Europe. He becomes the Union's second Designated Player on the roster. Being this club's top signing ever is going to bring major expectations from the fans for Fabian to produce week in and week out. Fabian is also going to have some big shoes to fill after the Union chose not bring back Borek Dockal after leading MLS in assists last season.
Plenty of Goal Scores
The Union have five strikers in the squad this season. FaFa Picault and Corey Burke now playing up top together screams goals and excitement. FaFa played winger last season, but with a new formation not requiring wingers gives him a chance through the middle. Corey Burke came out of nowhere last season and scored like it was going out of style. Oh, and don't forget they still have Serio Santos and David Accam on the bench.
Home Fixtures Favor the Union
The Union have a lot of difficult games this year, especially against teams from the West Coast. Most of these games, though, take place at home. With travel and jet lag, this gives the Union the advantage. This can also bring revenue with these big players coming to town.
Trust the Process
Yes, I know this is the 76ers motto, but it could work for the Union, too. The Union are phasing out older guys. The combination of bringing on younger guys with a system change under Ernest Tanner, means something new for everyone. Getting this system down isn't going to happen overnight. But at the end of the season, if the Union can either get a home playoff game or even a Cup, this can be seen as a successful season.