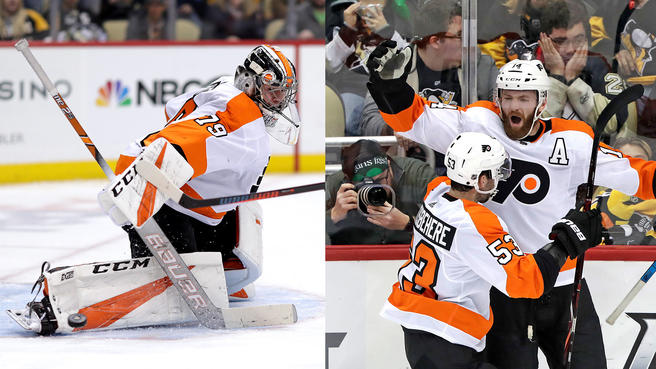 Flyers Stun Penguins In Comeback Fashion Again
The Flyers are still alive, and they keep letting the league know it. Pittsburgh was probably having flashbacks to the Stadium Series all over again on Sunday night, as the Flyers rose from the dead to shock the Penguins in a 2-1 overtime win.
It was a standoff kind of game, as neither team scored through the 1st and 2nd periods. 2 minutes into the 3rd period, Penguins' Teddy Blueger broke the deadlock, scoring to make it 1-0. The Penguins looked like they were on their way to a shutout win over the Flyers, but James van Riemsdyk had other plans. With only 19 seconds left on the clock, JVR scored to stun the Penguins, tying the game at 1 to send it to overtime.
The overtime period resembled the rest of the game, as each team struggled to make anything happen. With the clock once again winding down to it's dying seconds, Flyers' Sean Couturier drove home the game winning goal, putting the final piece on a shocking win over Pittsburgh.
The Flyers still aren't dead yet in terms of the playoff race, and beating Pittsburgh was huge. However, it's going to take an incredible run and a lot of luck to get into the postseason. We're still believing, even though it's probably gonna hurt.