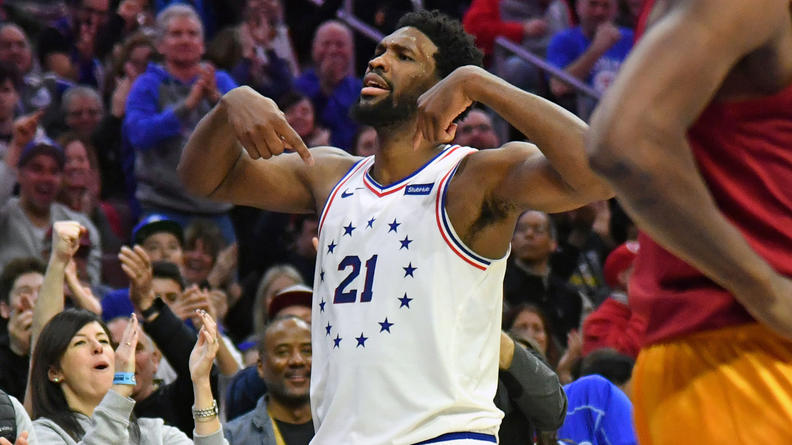 Embiid And The Sixers Pull Into 3rd Seed With Win Over Pacers
Everybody in Philadelphia and Indianapolis knew what was at stake on Sunday afternoon. The game between the Pacers and Sixers was basically a playoff game, as the Sixers were in position to take the 3rd seed from the Pacers. Everybody at Wells Fargo Center knew it. When Joel Embiid was announced to return to the lineup for the first time since the All Star game, the intensity became that much more. And the Sixers showed up and showed out to take back the 3rd seed on their home court.
It was a close game early on, with the Sixers holding a 1-point, 26-25 lead after the 1st quarter. The 2nd quarter was a different story, and one we're not used to seeing from the Sixers. The Sixers played an awful 2nd quarter, being outscored 34-25 in the quarter. The team that had been a generally strong 1st half team most of the season, was suddenly looking terrible in their greatest strength. But their late run in the 2nd built momentum for what would be an explosive 2nd half.
The Sixers came out strong in the 3rd quarter, impressively locking down and outscoring Indiana 21-11. They still didn't have the separation they wanted, and they blew it wide open in the 4th. The Sixers exploded in the 4th quarter to outscore Indiana by a staggering 34-19, to win it in comeback fashion, 108-86. It's incredible what this team can do with Embiid on the floor.
Speaking of Embiid, he made sure the whole league knew he was back. Despite it being his first game since February 17th, Embiid stuffed the stat sheet with another double-double. His final line included a team high 33 points, 12 rebounds, and 2 steals.
Tobias Harris and Ben Simmons still had solid games as well, although they didn't get the same production they did in Embiid's absence. Harris gathered 16 points, 8 rebounds, and 4 assists. Simmons tallied 15 points, 4 rebounds, and 6 assists.
The Sixers, now in 3rd place and looking to hold it, look to play the Cavaliers on Tuesday. With Embiid back, in theory, it should be another relatively easy win to continue to secure their 3rd seed. But the Sixers have made me eat my words with matchups like this before (*cough* Bulls *cough*).