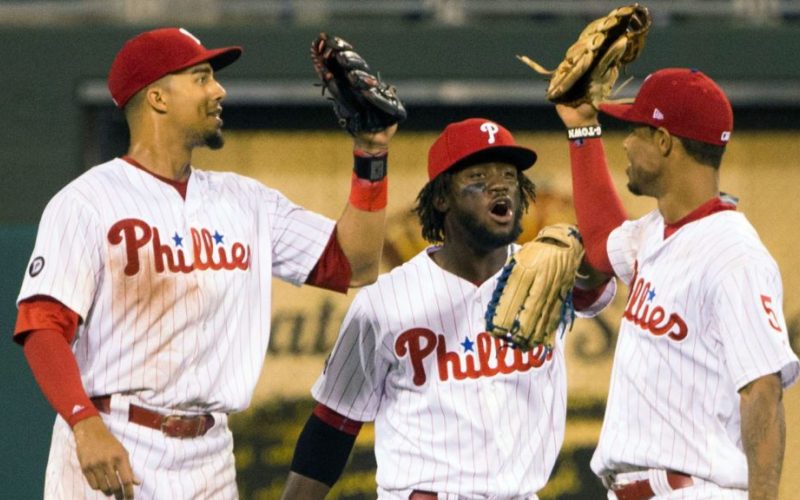 Bill Streicher-USA TODAY Sports
The Phillies' Outfield Dilemma
With only a little over 3 weeks until Opening Day, the Phillies have a lot of roster situations to sort out. The infield is fairly straightforward, but not the outfield. Bryce Harper is a certainty in right field, while McCutchen and Herrera have left and center field, most likely. But what about the other options off the bench? Who will make the final cut?
The Phillies have a lot of options in the outfield. Nick Williams was the most-used option, often getting starts in right field as a nearly-everyday player. Early in the season, he was a valuable bat off the bench with 3 pinch-hit homers in quick succession, earning him more playing time. Thanks to his improvement last season, I'd fully expect Williams to be the go-to guy when one of the regulars needs a break, or when the Phillies need a pinch-hit.
Roman Quinn has been of my favorite guys in the Phillies organization for a couple years, but injuries have sidetracked him immensely. It's a frustrating situation, but last season we finally got a glimpse of the true capabilities of a healthy Roman Quinn, and it was eye-opening. He can be a great bat off the bench and has the speed to be a pinch-runner and a reliable defensive piece. However, he's been sidelined this spring with yet another injury, and you have to wonder how much time he has left here. There's not a guy in that clubhouse that I'm pulling for more than Quinn.
If you base the roster solely off the spring training stats, Dylan Cozens is a shoo-in for the Opening Day roster. Cozens has been on a tear, batting .500 with a 1.071 slugging percentage this spring so far, going 7-14 with 2 homers and 5 RBI. It's great to see since he struggled in the major leagues last season.
The Phillies have Aaron Altherr as well, who dropped off hard in 2018, including a demotion back to the minors for a stint, as Williams dethroned him. He still has a strong bat and we know what he's capable of, it's a matter of whether or not he's been surpassed now by the others. It's survival of the fittest in the majors.
As of right now, the starting lineup is most likely Andrew McCutchen, Odubel Herrera, and Bryce Harper. As for who will be the 4th man and/or bat off the bench, is yet to be determined. If I had to guess, Williams is almost a guarantee for 4th man and bat off the bench. If Quinn had been healthy, he'd be a near-guarantee as well, but his injury makes things interesting. Altherr has the greatest odds to overcome at this point. Cozens has most convincingly earned his spot this spring so far. We'll see who can earn the Opening Day roster spots.